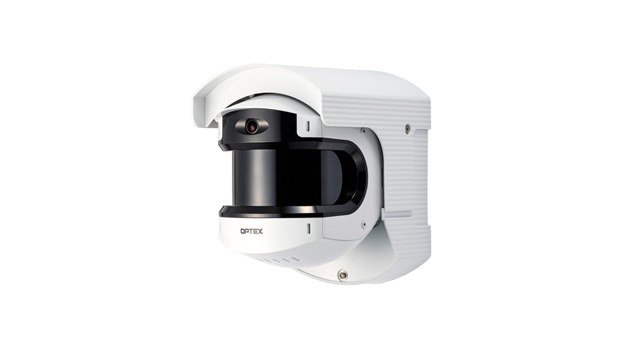 RLS-50100V[50 x 100 m]
RLS-3060V[30 x 60 m]
Highly accurate outdoor and indoor security sensor using LiDAR technology with advanced detection performance, long-range customisable detection and environment resistance.

190 degree, PoE+ LiDAR sensor, ONVIF profile S compliant for outdoor and indoor high security applications
Part of the ONVIF profile S compliant REDSCAN Pro Series, RLS-50100V is the long-range LiDAR sensor providing very accurate detection of intruders and moving objects within a range of 50 m x 100 m, without any gaps and keeping the same detection resolution in the near and far. Equiped with OPTEX's most advanced technology it provides excellent detection performance not affected by variable lighting, temperature or environmental changes, making it the best solution for high security sites.
Achieve more with just one sensor

RLS-50100V provides 50 x 100 m, 190 degree detection allowing to protect wide areas, with just one sensor. The detection area can be divided in up to 8 independent zones, and for each of them the object target size, sensitivity and output can be customised. It gives great flexibility to adapt the settings depending on the zones location and level of threat. For instance one detection zone can be set to detect people, while another is set to detect vehicles, or one zones can be set as pre-warning and another as immediate security alert. The REDSCAN Pro's detection range and versality enables to achieve what is usually done by multiple sensors. In addition the sensor has a built-in camera which can record on the device, alarm events and save both logs and pre-post event photos and videos, to be used as additional support to review what triggered the alarm and make any adjustments necessary to the settings.
Intelligent and weather resistant device

With onboard analytics, REDSCAN Pro can analyse the size, the speed and the distance of the moving objects, providing point detection by tracking the X & Y coordinates of the moving objects. A further advantage of LiDAR technology is that the detection performance is stable at any time without being affected by variable lighting or temperature. RLS-50100V provides a high detection resolution of 0.125 degrees.

RLS-50100V features environmental resistance function to reduce false alarms due to harsh environments like fog or snow. An Auto Area Adjustment function allows REDSCAN Pro to continuously adjust the detection area to take into consideration changes happening on ground suchs as accumulation of snow or leaves. The sensor can operate from -20 to +60 degrees and when using a heated lens can extend its operating tempertaure to -40 degree.
Connectivity and interoperability

The RLS-50100V LiDAR is an ONVIF profile S compliant sensor allowing it to send alarm outputs via the ONVIF protocol to any ONVIF compliant networked video system or IP network devices. The video stream of the assistance camera could also be provided to the Video Management Software platform via the ONVIF RTSP protocol. To assure a secure network communication, the REDSCAN Pro is compliant with HTTPS, SNMPv3 protocols.
ONVIF is a trademark of Onvif.Inc.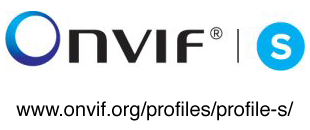 Easy installation and maintenance

REDSCAN Pro is equipped with built-in assistance camera which simplifies installation and walk test. Through a laser line overlay on the camera view, it provides a very useful visual guidance on where the detection area is on scene, allowing to adjust the angle of detection of the sensor. Additionally, the RLS-50100V features a built-in adjustment bracket within its housing to allow a tilt of -5 degree to 95 degree and a side adgustment is -/+ 5 degree. Horizontal, vertical and tilted mounting options can all be achieved without the need of an additional bracket.

The configuration settings is done via web browser which allows an easy remote access. The settings can be copied from one device to another, providing they are the same model (from one RLS-50100V to another RLS-50100V).
Small number of installations
Since the detection range is square, a wide range can be covered with a small number of installations.

Vertical or horizontal mount is selectable
REDSCAN Pro series can be installed vertically, horizontally or at an angle up to 45º.

Selectable installation method
REDSCAN Pro series have 3 installation methods as Wall, Ceiling and Pole. You can select either method to match the installation site.

Eight independent detection zones


High performance and environmental resistance
Throughout the seasons, changes can happen to the ground or the detection area,Throughout the seasons, changes can happen to the ground or the detection area,with accumulation of leaves or snow. The auto area adjustment allows the REDSCAN Pro unit to continuously adjust the detection area between the object height and revised line of the ground. Adjustment range 1 m (3.3 ft) as default but can range from 0 to 20 m (0 to 65 ft). with accumulation of eaves or snow. The auto area adjustment allows the REDSCAN Pro unit to continuously adjust the detection area between the object height and revised line of the ground. Adjustment range 1 m (3.3 ft) as default but can range from 0 to 20 m (0 to 65 ft).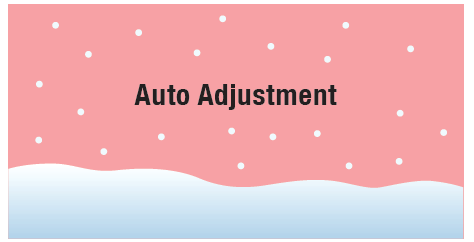 When the REDSCAN Pro is set in vertical mode, there is a Small Animal Tolerance function enabling to ignore small animals moving on the ground. By default this function is enabled but it could be disabled if there is the requirement to increase the detection sensitivity near to the ground.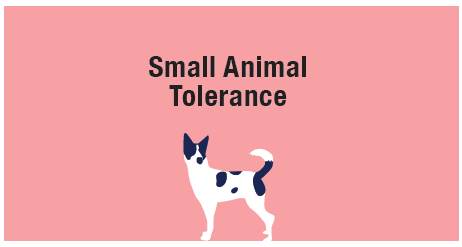 Environmental Resistance Function
This function provides additional detection stability during adverse weather conditions such as fog or snow. Different settings are available to adjust the detection algorithm depending on the severity and density of such weather.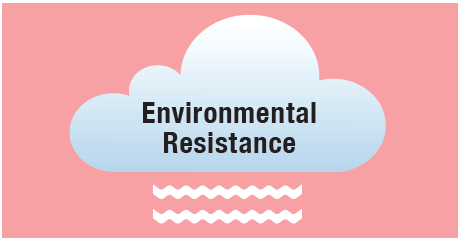 Easy installation and configuration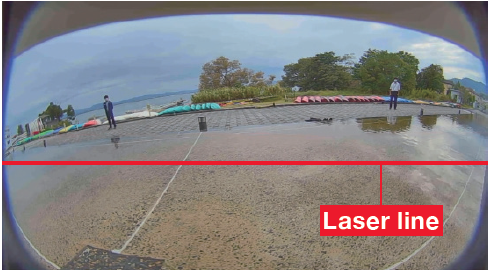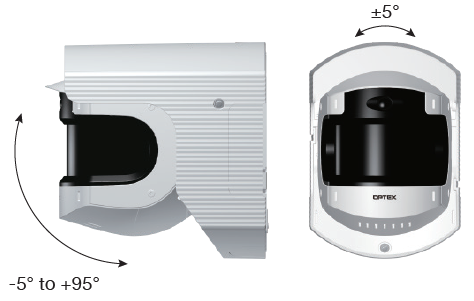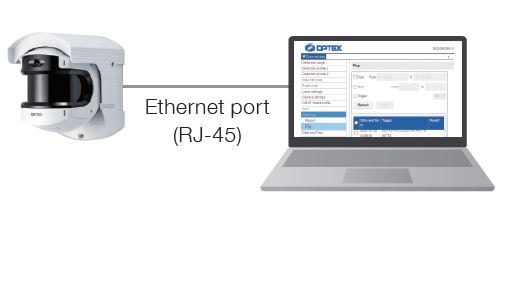 Verification of the cause of detection signal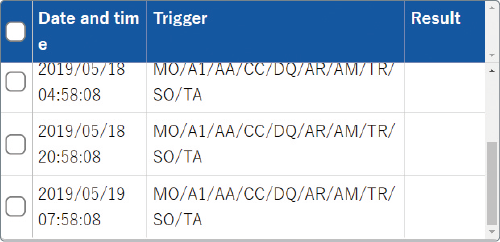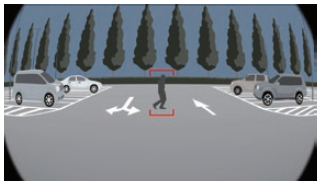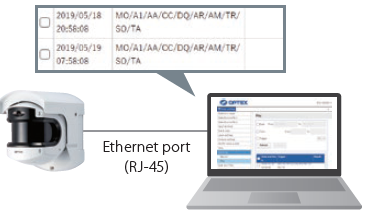 Coverage

Specifications

Dimensions
RLS-50100V                                   RLS-3060V

Model
RLS-50100V
RLS-3060V
Installation location
Indoor / Outdoor
Detection method
Infrared Laser Scan
Laser protection class
Class 1
Power input
19.2-30 VDC, PoE+ (IEEE 802.3at compliant)
Current draw
500 mA max. (24 VDC), 12 W max. (PoE+)
with heater option: 1.25 A max. (24 VDC), 25.5 W m ax.(PoE+)
Mounting method
Ceiling mount, Wall mount, Pole mount
Detection area
50 x 100m, 190 degree (approx. 165 x 330 ft.)
30 x 60m, 190 degree (approx. 100 x 200 ft.)
Detection range
Radius 1 to 50 m (approx. 3.3 to 165 ft.) at 10% reflectivity
Radius 1 to 30 m (approx. 3.3 to 100 ft.) at 10% reflectivity
Detection resolution/Response time
0.125 degrees / within 100 msec. to 15 min.
0.25 degrees / within 100 msec. to 15 min.
Mounting height(Vertical mode)
Indoor: 2 m (approx. 6.7 ft.) or higher
Outdoor: 4 m (approx.13 ft.) or higher(recommended)
Communication port
Ethernet RJ-45
10BASE-T / 100BASE-TX (Auto negotiation)
Protocol
UDP/ TCP/ HTTP/ HTTPS/ IPV4/ DNS/DHCP/ SNMPv1-v3/ NTP/ WS-Discovery/ ONVIF / IPV6 / IEEE802.1X
Output
6 outputs, 28 VDC 0.2 A max. N.O./N.C.(selectable)
(6 from Master alarm, Zone alarm, Trouble, Tamper,Enviromental Disqualification, Device Monitoring)(programmable)
Input
1 Non-voltage contact input
Detection profile switching, Area set, Sensor check)(programmable)
Alarm period
Approx. 2 seconds delay timer
Operating temperature
-20°C to 60°C ( -4°F to 140°F )
with RLS-LWVH: -40 °C to 60°C (-140°F to 140°F)
IP rating
IP66
Dimensions (HxWxD)
230 x 160 x 257 mm max. (9.1 × 6.3 × 10.1 inch)
Weight
2.6 kg (5.7 lbs.)
Image sensor
Full HD
Image resolution
1080P (Web User Interface), 720P/360P (RTSP)
Viewing angle
H:170°, V:85°
Minimum illumination
Approx.1 lux.
Day and night
Removable infrared-cut filter (Auto / Night / Day)(selectable)
Image compression
H.264, JPEG
Frame rate
1 to 30 FPS (selectable)
* The specifications and design are subject to change without prior notice.
* The specifications refer to the Firmware ver.1.1.1.

※Protection of personal information
This product is equipped with the function to produce and record moving and/or still image which includes the information such as face of an individual that could identify the individual. Producing and recording with this product may be regulated by country-specific laws to protect personal information. Prior to the installation of this product, the compliance to local laws and regulations needs to be confirmed by the user of this product for the lawful installation and use of this product, and signage and notification when using this product.
Contact phone number
Headquarters

+81-77-579-8004