Perimeter Monitoring Systems in Critical Infrastructure Facilities
High-Grade Security Measures as Japan Gears Up for Numerous International Events
Japan has been working to establish itself as a global tourist destination, as well as hosting a growing number of major international events, and so an increasing number of visitors are expected to arrive. Japan is already known as one of the safest countries in the world, but there is also a growing demand for measures to ensure security and prevent terrorist attacks and the like, as well as increasing standards for safety, with various government bodies issuing new safety and security guidelines.
In order to ensure that a great many people from around the world will be able to come and experience Japanese culture, and spend a pleasant vacation without encountering any trouble, Japan needs proactive security measures at its most important public safety facilities, as well as transport and energy infrastructure.

Security Measures That Are Critical to Important Infrastructure
Our economy is supported by a transport infrastructure including airports and railroads, energy facilities such as power plants and chemical plants, and other important facilities such as ports and defense facilities. If a terrorist attack occurs, not only could lifelines like electricity, gas, and water be cut, but the roads and railroads that allow society to function might fail, and that doesn't even take into account the human casualties, which could be massive. Even Japan, which has earned a reputation as one of the world's safest countries, is no exception to this.
For this reason, in recent years there have been more and more moves toward an increase in the overall security level and more concrete security measures, with safety guidelines being promulgated and many facilities requiring that ever greater emphasis be put on the responsibility to protect people's safety.

With an Integrated System of Surveillance Cameras and Sensors,
We Can Prevent Crimes Before They Happen
By noticing an intruder before they enter the grounds or the building, and immediately dispatching security guards, or by setting off an alarm system, we can prevent crimes before they occur. A majority of important facilities have implemented surveillance cameras as a security measure. Surveillance cameras are an integral part of security measures, since they allow remote confirmation and recognition of criminals, and can keep a visual record for evidence purposes. But while surveillance cameras are useful for after-the-fact examination of the visual records, immediate response when a suspicious individual is trespassing requires 24-hour monitoring of the surveillance camera footage. And what's more, examining a large number of cameras requires massive labor resources, and there is a limit to what human beings can do without making an oversight or other mistake.

Optex has constructed high-accuracy perimeter monitoring systems that use image recognition achieved by linking up the intrusion detection sensors with the surveillance cameras, and these systems are increasingly being used all over the world. By installing sensors around the grounds, such as on outdoor fences and along the perimeter, those sensors can rapidly acquire data such as the intruder's position and specific features, allowing for clear and appropriate instructions to be delivered to the security guards heading to the site. Furthermore, in addition to surveillance cameras, LED floodlights, revolving lights, sirens, and other warning devices can be combined to intimidate intruders, as well as notifying the surveillance center.

Overcoming Inconsistencies in Security Measures
High Priorities and Half-Hearted Security Investments

One might think that security measures in important facilities would be a very high priority, but in large facilities that take up a wide area, the cost of implementing such measures increases. In such facilities, both human monitoring and watching of surveillance cameras require a large amount of manpower and labor costs, thus impeding the implementation of such measures.

Optex's perimeter monitoring systems allow for optimal planning appropriate to the scale and environment of the facility, so that you can implement the best security measures to suit your needs.

The optical fiber sensors detect even the slightest vibration from an intruder climbing over or cutting through the fence, and can be put around a perimeter fence of up to 5 km.
This makes them very effective for perimeter security monitoring on large-scale facilities.
Laser sensors, which can identify factors such as "size," "movement speed," and "distance from the sensor," can detect intruders within a 30-m radius, and pinpoint their position and the direction in which they are moving.
Apart from that, we have an extensive product line to accommodate a wide range of distances and potential intrusion pathways, including things like intrusion detection sensors that are perfect for the entrances and exits of short-perimeter facilities or placement inside the grounds.
By linking up these sensors and surveillance cameras in a comprehensive manner, once anyone trespasses you can stop them quickly and assuredly, allowing for securer and more efficient operations.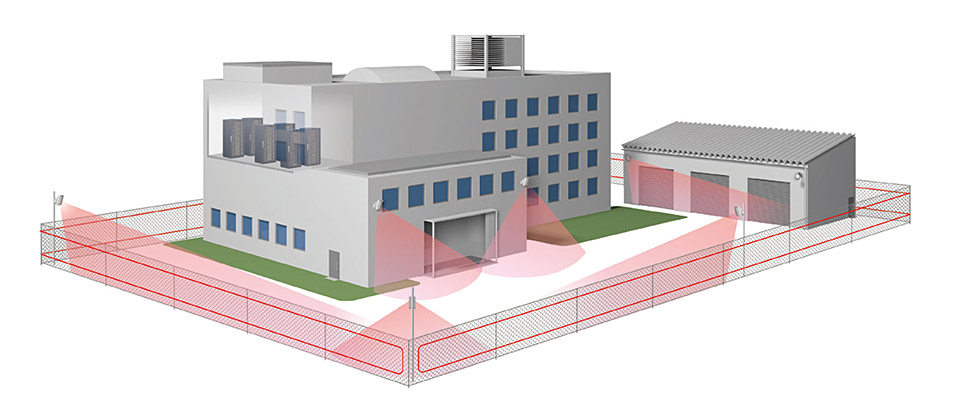 A sensor lineup that can be constructed based on the scale of the facility and the potential entry routes
By linking the sensors with the surveillance cameras, we can pinpoint the position and movement direction of an intruder
Reliable operation with a high level of efficiency
Upgrading of security precision by connecting with various warning devices
Optimization of the cost of security measures
Contact phone number
Headquarters

+81-77-579-8004