IoT supports to grasp flood information in urban areas in real time
Using simple flood monitoring as an evacuation switch in the event of a flood
In the several past years, floods have been frequent because of concentrated heavy rains never seen before. In order to prepare for the increase in water disaster risk due to climate variability, not only the efforts of river managers so far, but also all parties (nations, prefectures, municipalities, companies, residents) from upstream to downstream of the river. It is necessary to take advance disaster prevention measures that integrate hardware and software based on the idea of "River Basin Management".

Among these pre-disaster prevention measures, the idea of controlling flooding in terms of hardware such as dams, reservoirs, and embankments has been the mainstream, but for example, data such as river flooding and road flooding should be collected by sensors installed at the site. Flood control activities as so-called soft measures are attracting attention.

Evacuation to a safe place is important to save lives. However, while receiving information such as evacuation advisories that informs of danger, the difficulty of taking evacuation action is highlighted. There is a need for a standard "evacuation switch" that allows residents to recognize the dangers of the surrounding area as their own and promptly start evacuation actions.

In addition, in the case of urban floods, road flooding (underpasses, manholes, etc.) is being damaged one after another due to excessive drainage function, so countermeasures are urgently needed.
Due to labor shortage, it is difficult to take immediate action in the event of a flood in an urban area.
Remote monitoring the water level of the entire hazard map area is required. Cameras have already been installed in several places so that the river water level can be monitored remotely, but the entire area cannot be covered.
It is necessary to provide residents with water level information that serves as a standard "evacuation switch" for starting evacuation.

Flooding of urban roads and underpasses has become a problem.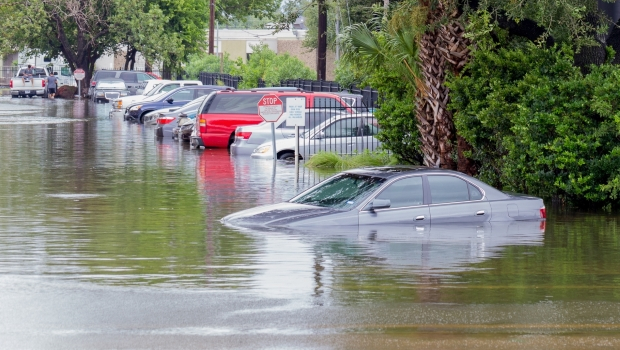 Solutions
Flood sensors and IoT wireless units will be installed in existing municipal facilities such as street lights and curved mirrors in high-risk areas of hazard maps.
When the sensor detects flooding, the IoT wireless unit uses Sigfox * communication to send the flooding information to the cloud server.

You can send flood information by e-mail to inform local government officials and residents.


The following system image diagram is a series of flow from flooding to receiving mail.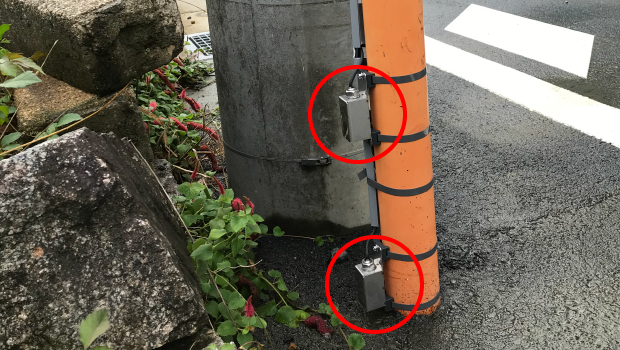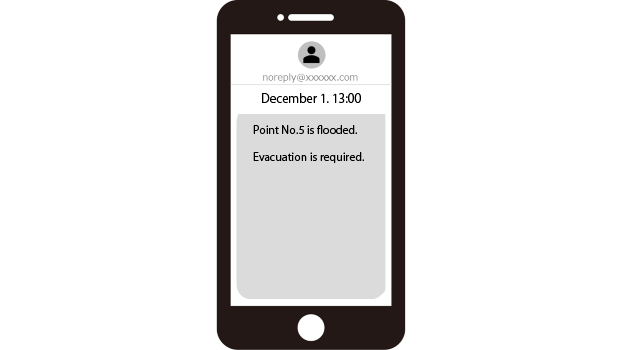 Sigfox communication: An IoT standard that uses LPWA communication. Sigfox has been rolled out in 65 countries in Europe and North America. In Japan, Kyocera Communication Systems Co., Ltd. is applying Sigfox in building infrastructure and in its network services. Since the service was launched in February 2017, work has been continuing on expanding the Sigfox usage area, and the population coverage has now surpassed 95%. (As of October 2019)
Click here for Sigfox service area
You can recognize the rise in water level at the point that was decided as an evacuation switch by e-mail sent to your mobile phone.
You can recognize that the danger is imminent near your home as "your own" and start evacuation without hesitation.

Even a small number of staff can quickly grasp the situation and respond.
Compared to conventional water level gauges and cameras, the submersion sensor is cheaper and can be remotely monitored at more points.
The submersion sensor does not require a power supply, and the wireless unit is battery-powered, so it can be installed in places where there is no power supply.
It is possible to provide residents with information on flooding in high-risk areas.
It is possible to develop a system that displays the location on a map as well as sending emails.
Associated information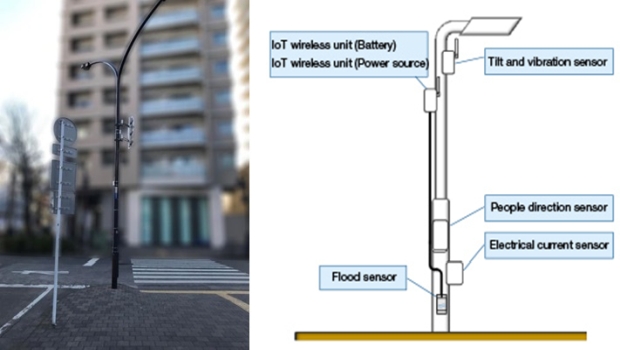 Optex Starts Verification of Monitoring the Flow of People, Flooding, and Equipment by Effectively Using Street Lamps in Suginami Ward
IoT, Safety, Disaster prevention, Town development, Remote monitoring, Facility monitoring, Visualization, People direction sensor, Electrical current sensor, Tilt and vibration sensor, Flood sensor
Contact phone number
Headquarters

+81-77-579-8890