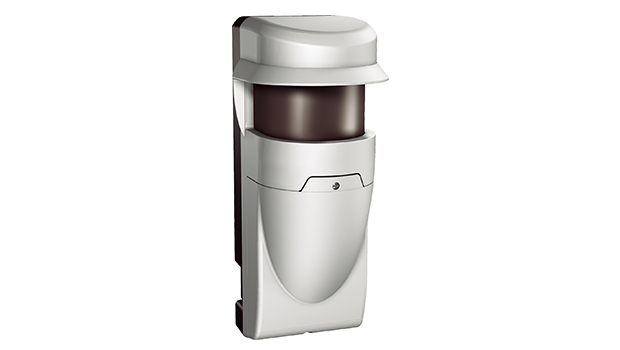 RLS-3060L[Standard model]
RLS-3060SH[Advanced model]
The REDSCAN RLS-3060 is an innovative laser scan detector. It can detect a moving object's size, speed, and distance from the detector and process that information with a unique algorithm, which results in hi-reliability detection of people with minimal false alarms. When vertical detection area is selected, it creates a maximum 60 m (200 ft.) detection area that functions like an invisible wall. When horizontal detection area is selected, it creates a detection area with a radius of maximum 30 m (100 ft.) and an arc of 190°.

The RLS-3060L is a low cost, high performance advanced intrusion device with four adjustable detection zones and linked outputs for PTZ camera control. It brings detection solutions for: fence line, building protection, rooftop, and narrow boundary zone with simplified controls for easy set up.

The REDSCAN RLS-3060SH is an advanced generation laser scan detector. It has both intelligent detection analysis functions and adjustable detection algorithm parameters that increase its range of applications. It provides flexible solutions that streamline video monitoring and will reduce installation costs. With 4 dry-contact output connections and 8 outputs via an IP interface allowing for connections to remote video applications.With firmware ver. 8 and REDSCAN Manager ver. 8.0, Detection range expansion which contributes to reduce installation costs.
30 m radius for 190 degrees range
Vertical and horizontal mounting
Unique detection algorithm
Form C master alarm output
Automatic area setting function
Environmental disqualification circuit
Scene selection (Outdoor, Indoor, Indoor Ceiling/Wall protection and Vehicle)
4 independently adjustable detection areas and 4 linked outputs for PTZ camera control (on Analog connection)
8 independently adjustable detection area and Redwall event codes for Network Recorder and Video Management software (on IP connection) (RLS-3060SH only)
Anti-rotation function
Anti-masking function
Fog cancellation algorithm (Patent listed)
Trouble output
Tamper output
Built-in heater (RLS-3060SH only)
Analog (Dry contact) & IP connection
Environmental resistance function
Non detection area adjustment
Alarm duration function
Detection range expansion mode (RLS-3060SH with firmware ver. 8 and REDSCAN Manager ver. 8.0 or later)
Changeable Dry-contact Alarm Output type N.O. to N.C. (RLS-3060SH with firmware ver. 8 and REDSCAN Manager ver. 8.0 or later)
Camera control output can be changeable to N.C. with RSM ver.8. (RLS-3060SH with firmware ver. 8 and REDSCAN Manager ver. 8.0 or later)
RLS-3060 series with firmware ver.8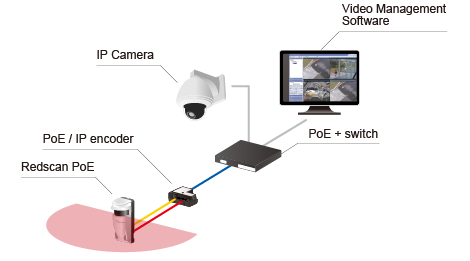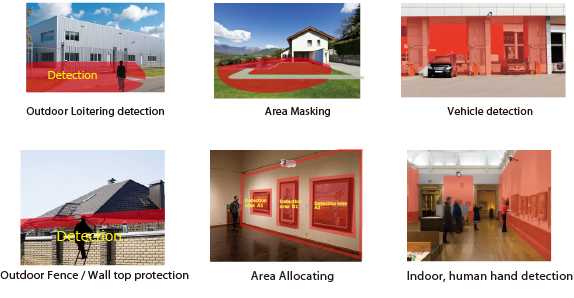 Laser Guard




Laser Fence




Laser Wall




8 zone Camera Control
Coverages

Specifications

Dimensions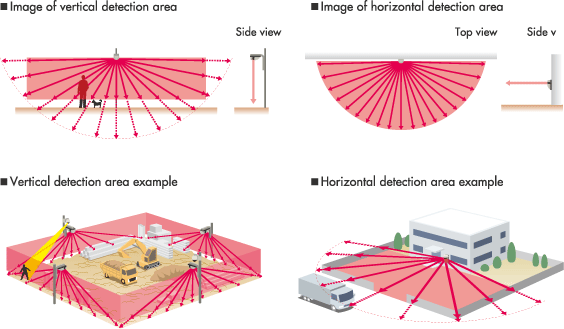 Model
RLS-3060SH
RLS-3060L
Detection method
Infrared Laser Scan
Laser protection class
Class 1
Coverage
Vertical area
Max. 60 m (Approx. 200 ft.) at 10% reflectivity
Detection range expansion enable max. 100 m (Approx. 330 ft.).
Vertical area
Max. 60 m (Approx. 200 ft.) at 10% reflectivity
Horizontal area
Radius:30 m (Approx. 100 ft.), Arc : 190° at 10% reflectivity
Detection range expansion enable radius : 50 m (Approx. 165 ft.), Arc : 190°.
Horizontal area
Radius : 30 m (Approx. 100 ft.), Arc : 190° at 10% reflectivity
Detection resolution
0.25°
Communication port
Ethernet, RJ-45, 10BASE-T/100BASE-TX
Protocol
UDP,TCP/IP REDWALLEventCode
Power input
24 VDC 24 VAC
Current draw
400 mA max. (24 VDC) 600 mA max. (24 VAC)
Heater power input
24 VDC, 24 VAC
-
Heater current draw
400 mA max. (24 VDC/AC)
-
Mounting height
Vertical area : 4 m~15 m
Horizontal area : 0.7 m
Target object size selector
S / M / L
Sensitivity selector
H / M / L
Camera control output
N.O. 28 VDC, 0.2 A x 4 outputs
Can be changeable to N.C. with RSM ver.8.
Master alarm output
Form C, 28 VDC, 0.2 A max.
Trouble output
Form C, 28 VDC, 0.2 A max.
Tamper output
N.C. 28 VDC, 0.2 A max.
Environmental disqualification circuit
Form C, 28 VDC, 0.2 A max.
Alarm period
Approx. 2 sec., Off delay timer
Operating temperature
-20 to +60°C (-4 to +140°F)
Operating temperature with heater
-40 to 60 °C (-40 to 140°F)
-
IP rating
IP66
Dimensions (H x W x D)
334 x 144 x 155 mm (13.2 x 5.7 x 6.1 in.)
Weight
2.5 kg (88 oz.)
2.4 kg (85 oz.)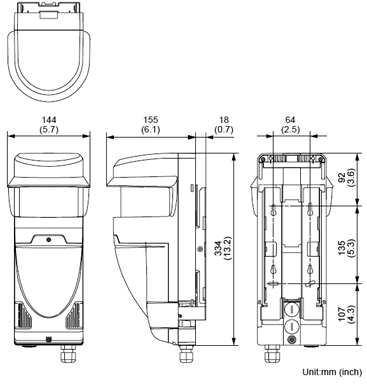 Contact phone number
Headquarters

+81-77-579-8004