SS Checker (Middle Range) TCS Series
SS Checker (Middle Range) TCS Series
TCS-1000(E)[Checker][Parts No. 05057]
Compact size of Φ32 mm. Easy maintenance with wiper cleaning method.
Advanced version of high performance SS sensor. We have achieved maintenance-free compact size.
● Built-in wiping cleaning system certainly keeps lenses clean.
Check and clean the window surface once every month.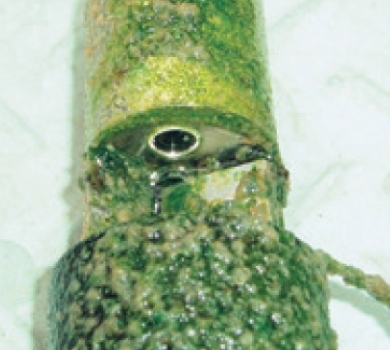 ● "Easy to clean" scratch-proof sapphire glass applies to the optical windows.
The optical windows are made of hard-to-scratch sapphire glass. It enables you to scrub the windows surface without problems.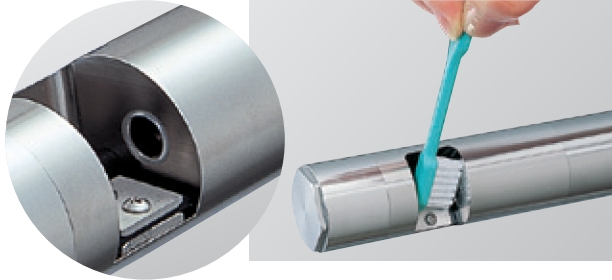 ● Compact size can fit into any installation site.
The compact design makes it possible to install any places.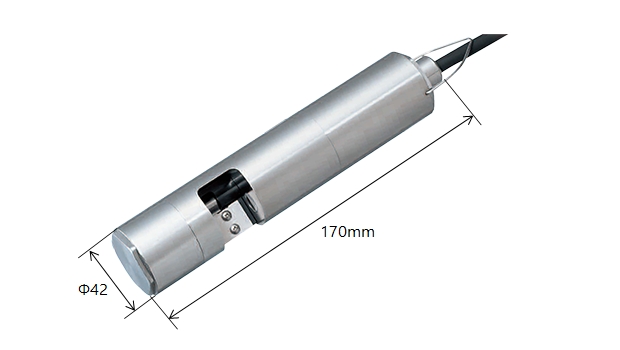 ●This checker can be used for continuous monitoring of suspended solids.
Analogue output (4–20 mA) allows you to use this checker with various equipments.
● High durability
Durable stainless steel has been used for the sensor casing.
Stainless steel = 18-15-2.5 Cr-Ni-Mo low C stainless steel.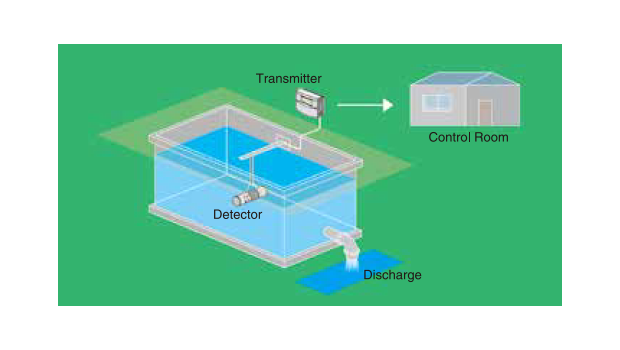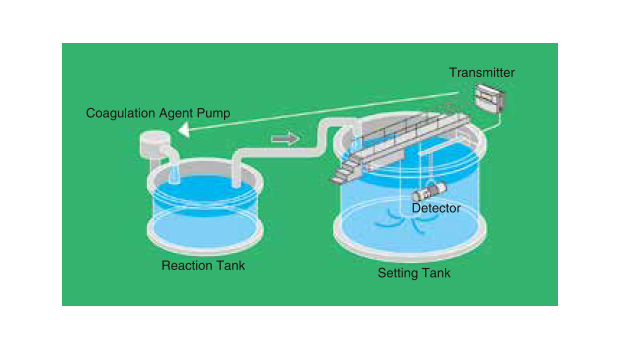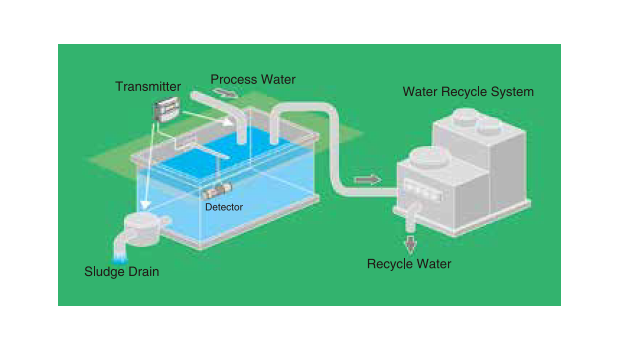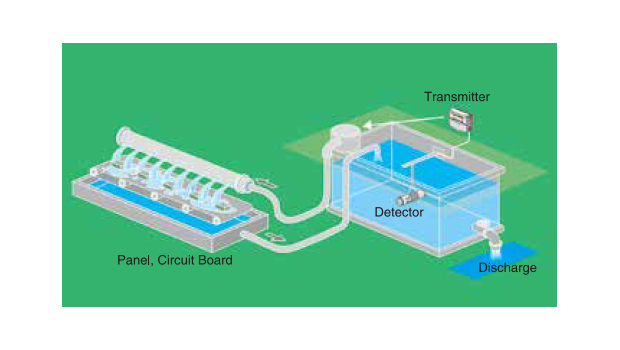 SC-T4
[Parts No.05053]

The transmitter is available to use in combination with the SS Checker.
As well as the SS indication, this transmitter can indicate signal output response time, alarm level setting and so on.
You can control the SS utilizing its functions fully.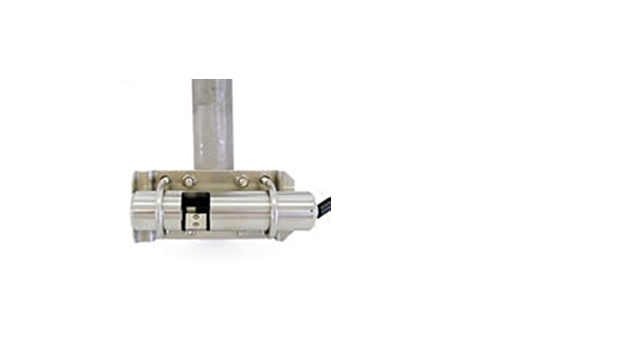 Mounting Attachment: TA-1
[Parts No.05039]



By mounting the turbidity sensor and SS sensor to the pipe, it prevents hitting the wall or facility equipment and rotating it. Please use it when the water current is fast.

Applicable pipe: Stainless steel pipe for piping 25 A (OD 34 mm)
Material: S30400
*Please prepare the pipe for installation by customer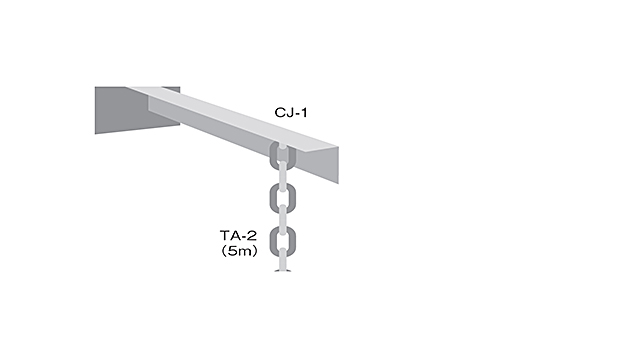 Support bracket: CJ-1
Hanging chain: TA-2
CJ-1 [Parts No.05033]
TA-2 [Parts No.05067]

It is a metal fitting for hanging the sensor.(CJ-1)
It is a chain for suspending the sensor.(TA-2)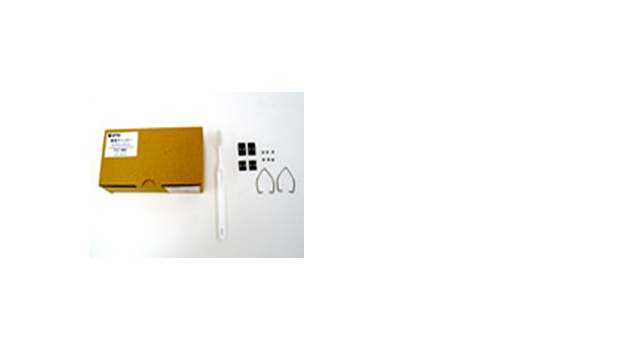 Maintenance kit: TC-MK
[Parts No.05038]



It is a replacement blade of the wiper cleaning device. Please exchange once a year as a guide.

Component
●Wiper blade × 2
●Cleaning brush × 1
●Detection window Cleaning paper × 2
●Manual × 1
Stanchion pole: PS-1
[Parts No.05031]

If there is no place (such as a wall) where the transmitter is installed, it can be mounted on the pole together with the hood kit.

Material: S30400
Hood kit: TP-FK2
[Parts No.05020]

It is a sunshade cover that protects the transducer from direct sunlight.

Material: S31603
Fixation kit: PS-TK
[Parts No.05163]

Please use when fixing the transmitter to pole stand without a food kit.
Model
TCS-1000(E)
Measuring range
0–1000 (mg/L) (standard substance:kaolin))
Power supply
12 VDC ±10%
Power consumption
At regular operation: 30 mA (Max.)
At cleaning operation: 240 mA (Max.)
(excluding analog signal output)
Output
Analog (4–20 mA) signal output: resistance load of 300 Ω (Max.)
4 mA: 0 (mg/L)
20 mA: 1000 (mg/L)
Self-checking output: open collector (12 VDC 20 mA Max.)
Input
Calibration signal input
Cleaning system
Both sided swing wiper cleaning system
Time interval for cleaning
Clean once immediately after power-on, and subsequently clean once every 10 minutes.
Operating temperature
0 to +40°C (unfrozen)
Major material
SUS316L, sapphire glass, fluorocarbon rubber, EPDM, POM
Dimensions
Φ32 x 170 mm (Φ1.26 x 6.69 in) (excluding horizontal hanging attachment)
Weight
Approx. 930 g (Approx. 2.05 lb)
Degree of protection
IP68, maximum depth of 2 m (underwater type)
Detector cable length
10 m
*Specifications are subject to change without prior notice.
Model
SC-T4
Power
100–240 VAC ±10% 50/60 Hz
Power consumption
Normal: 8 VA or less
during washing: 16 VA or less
(including detector, at the time of analog signal input/output of 20 mA)
Display resolution
0.1 mg/L (0–49.9 mg/L)
1 mg/L (50–1000 mg/L)
Output
Calibration Output
Power Supply for Sensor (12 VDC)
Signal Output (analog 4–20 mA, resistance load of 300 Ω or less)
Self-checking Relay Output (non-voltage C-contact capacity 240 VAC, 1A resistance load)
Alarm Relay Output (non-voltage C-contact capacity 240 VAC, 1A resistance load)
Input (detector)
Detector signal input analog 4–20 mA
Input resistance approx. 100 Ω
Self-checking input
Operating temperature range
-20 to +50°C, humidity 95%RH or less (Avoid direct sunlight)
Main material
Polycarbonate
Dimensions
Approx. 162 (H) x 240 (W) x 75 (D) mm [Approx. 6.38 (H) x 9.45 (W) x 2.95 (D) in]
Weight
Approx. 1.6 kg (Approx. 3.53 lb) (including Mounting Brackets)
Degree of protection
IP65 (jetproof type)
*Specifications are subject to change without prior notice.
TSC-1000(E)

SC-T4
Contact phone number
Headquarters

+81-77-579-8680