Optex Enters the North American and European Shutter Markets with the OAM-EXPLORER Shutter Sensor
04/16/2019
Optex Enters the North American and European Shutter Markets with the OAM-EXPLORER Shutter Sensor
- Providing Safety and Improved Environmental Efficiency at Factories and
Warehouses With Frequent Deliveries and Dispatches -

Optex Co., Ltd. (Headquarters: Otsu City, Shiga Prefecture, President & CEO: Toru Kamimura, hereinafter "Optex") has entered the shutter markets in Europe and North America. As our first venture in these new markets, we will successively start sales of the OAM-EXPLORER shutter sensor from May. We have applied the sensing technology acquired in the automatic door and shutter markets in Japan, and developed a shutter sensor to optimize the work environment by improving the environmental efficiency and safety of shutters used at warehouses and factories where forklifts and people work side by side.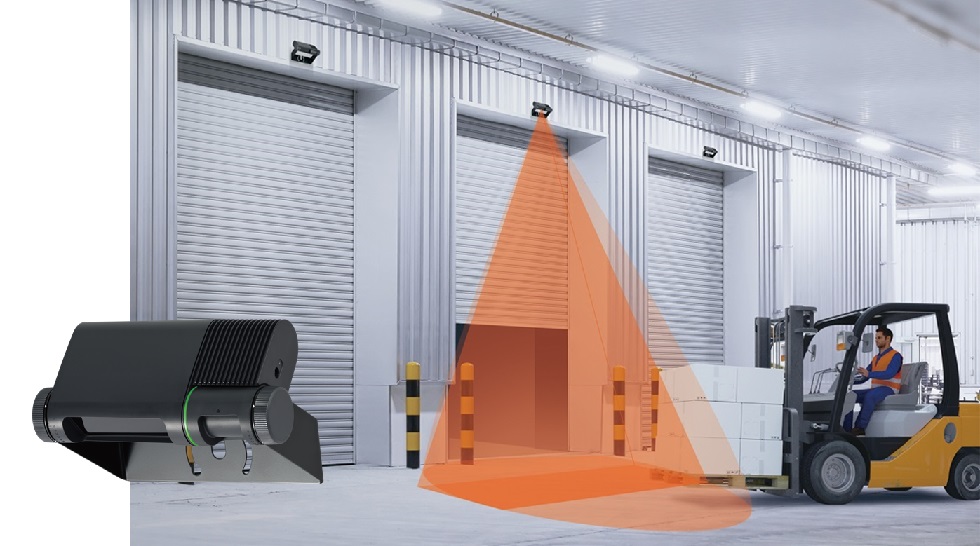 Many facilities such as factories and warehouses have installed high-speed open-close shutters made from lightweight materials to improve the efficiency of conveying items, and to make better use of the air conditioning at delivery entrances and between work areas. Factory floor workers and vehicles such as forklifts for conveying packages and other cargo frequently intersect in the areas around where the shutters open and close. So there is a need for measures to further ensure the safety of workers there, such as making sure there are no accidents involving humans and these vehicles. Such measures must not only facilitate the smooth distribution of cargo, but also boost energy and air conditioning efficiency by eliminating the unnecessary opening and closing of shutters, as well as improve sanitary management by reducing the mistaken inclusion of foreign objects. Optex has a proven track record in shutter sensors in the domestic market, and expertise in entrance products used worldwide that we have acquired in our automatic door sensor business. With this solid base, we have developed a product that provides both safety and environmental efficiency. We will use this product to carve out a niche in the enormous-scale shutter markets in Europe and North America.
1.Safer Areas Around Shutters, Where People and Vehicles Intersect
Optex shutter sensors cover a wide detection area, and they can reliably detect forklifts and other such vehicles moving at high speeds. These sensors improve safety by opening and closing shutters on a timely basis, and detecting stationary objects (people) in the areas around the shutters.
Optex shutter sensors operate using the dual technologies of microwaves and near infrared rays.
The sensors work in tandem with revolving lights, voice alerts, and other alarm devices installed around the shutters. When approaching vehicles and people passing by are detected in the area, the alarm devices set up on the opposite side sound a warning to alert people to the oncoming vehicles, and ensure their safety by preventing any head-on collisions or similar accidents.
2.More Efficient Access to Save Energy and Create a More Comfortable Indoor Environment
Optex shutter sensors identify vehicles that pass in front of a shutter, and stop it from opening and closing unnecessarily. By only opening the shutters when needed, these sensors can maintain a comfortable indoor environment by keeping out dust and noise, etc., and conserve energy by preventing the air conditioning from leaking to the outside and thereby improving its efficiency.
3.User-Friendly Sensor That Improves Work Efficiency
Optex shutter sensors are easy to install, and they can be set up in half the usual installation time.
These sensors can be easily installed above ground using a smartphone; so they can also greatly reduce the risk associated with installation work done in high places.
Optex shutter sensors perform to the same level of our other highly reliable sensors, and they also meet the needs of shutter markets worldwide. We are planning to enhance the lineup of these sensors for the shutter market. We will continue to provide products to create a safe, secure, and comfortable work environment in factories and warehouses around the world.
Inquiries about news release
Akiko Otsuka
Public Relations and Promotion Department
E-mail:oj-pr@optex.co.jp