Surveillance Cameras Convey Accurate Information on Disasters Even in Low-Visibility Scenarios
Sharpening of the Surveillance Image
Surveillance Cameras Convey Accurate Information on Disasters Even in Low-Visibility Scenarios
As security needs grow and diversify with the changing societal circumstances and environment, the scale of the market for surveillance cameras has been expanding all over the world. The use of image information recorded by such devices occupies an important position, not just in preventing crime and terrorist attacks but also in such areas as gathering information regarding disasters such as earthquakes, flooding, landslides, volcanic eruptions, and so on, both at the moment they occur and when getting a handle on the damage situation later.
On top of that, in recent years surveillance cameras have been increasingly used in corporate back offices and social infrastructure for such purposes as safety monitoring by performing degradation analysis on roads and other facilities, as well as data collection for marketing improvement of services, etc. Surveillance camera assistance floodlights, which allow for the acquisition of ever-clearer image data, undoubtedly hold the key to operational effectiveness in monitoring.
With Surveillance Imaging Even in Dark Places and the Black of Night,
Never Let Your Guard Down!
Localized downpours have been striking Japan in the recent past. In those areas where the damage was minimalized, this was thanks to early warnings due to alarm systems from water level sensor information for rainfall, rivers, and dams, as well as surveillance cameras. But there are still plenty of situations where, due to it being nighttime or there being low light levels for some other reason, clear images cannot be recorded, and so the situation cannot be firmly grasped as early as one might hope.
Infrastructure surveillance
At present, roughly 40% of Japan's expressways have been in use for more than 30 years and they are showing a great deal of aging and degradation. For this reason, a Renewal Project* aimed at large-scale renewal and repair of Japan's expressways is being implemented. Degradation can also be seen in regular roads, bridges, tunnels, and so on, not to mention wear due to traffic by large vehicles, as well as damage from natural disasters and salt damage. It is becoming increasingly important to enforce a social infrastructure for maintaining our roads, such as by requiring manual on-site visual inspection once every five years. Against the backdrop of such social concerns, automated deterioration diagnosis services that can use AI processing on photographic images taken by cameras loaded on road patrol cars for collection of information on road surfaces, analyzing images, and estimating the deterioration state such as cracking and peeling, are becoming more prominent.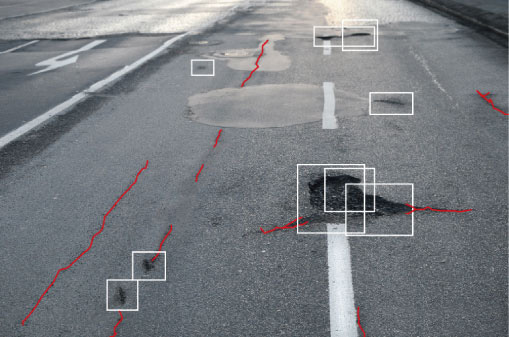 Surveillance Camera Assistance Floodlights "Reveal That Which Is Unseen"
Surveillance cameras are used in a wide range of situations outdoors, but they frequently capture images that are difficult to make out or cannot be seen at all.

By combining such surveillance cameras with Optex's surveillance camera assistance floodlights, even at night or in low-light scenarios, not only can the cameras record clearer footage, but we can achieve a uniformity of vision of the cameras, regardless of angle or time, thus improving the captured image overall. This is allowing us to tackle the problem of delays in noticing issues due to image oversight.

Surveillance camera assistance floodlights are being used the world over in surveillance cameras and surveillance systems, and are applied to a wide range of purposes, from security to disaster prevention, from infrastructure to number plate recognition.

Furthermore, surveillance cameras and floodlights are used in places with extreme environments, including strong wind and rain, places where vibration and impact can be caused by road irregularities, places with very high road-surface temperature. Our devices are designed to withstand mechanical shock and vibration, with a high level of salt resistance and a wide operating temperature range.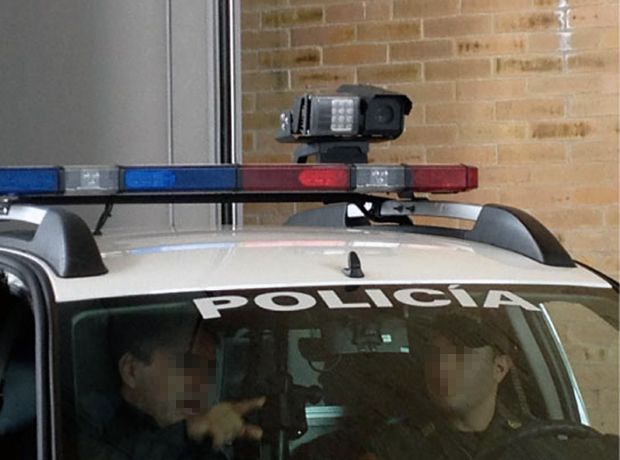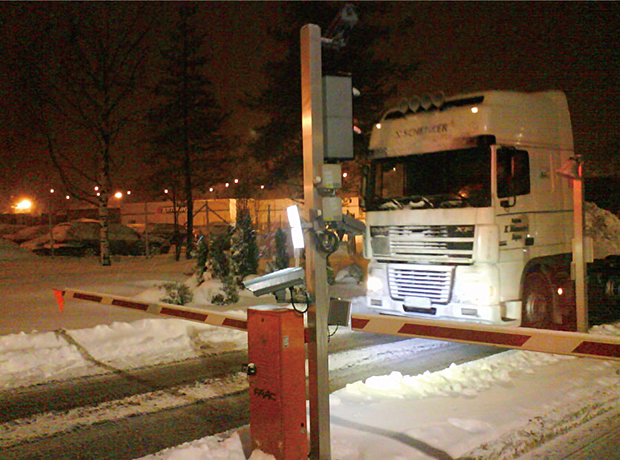 Infrared floodlights: LED lights comprised of special "infrared" light that is invisible to the human eye
 
The infrared light illuminates the surroundings, allowing for a clearer surveillance camera image.
Infrared floodlights have a longer flood distance than the camera's internal infrared lights.
This is because a large number of LEDs are being used, with a large amount of light intensity
 
Visible light floodlights: White LED lights visible to the human eye
We have short-, mid-, and long-range models to fit whatever distances you may need to record images from
Infrared type: 20–500 m; Visible white light type: 10–250 m
■ Light angle
By switching the lens, one illumination device can achieve six different lighting angles (ranging from 10° to 120°), allowing for optimal vision in a wide range of scenarios.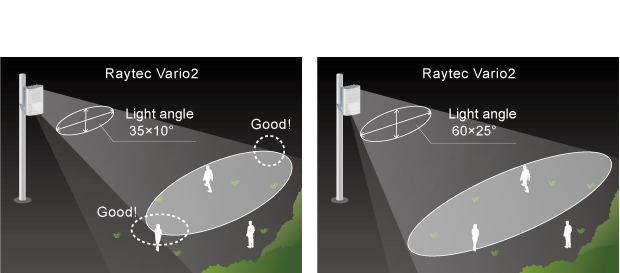 ■ Optical technology
Hotspot reduction technology, or optical technology, can achieve a uniform illuminance of image according to the camera's angle and photographing distance, allowing for a clear picture down to the very last detail, without problems such as overexposure and underexposure.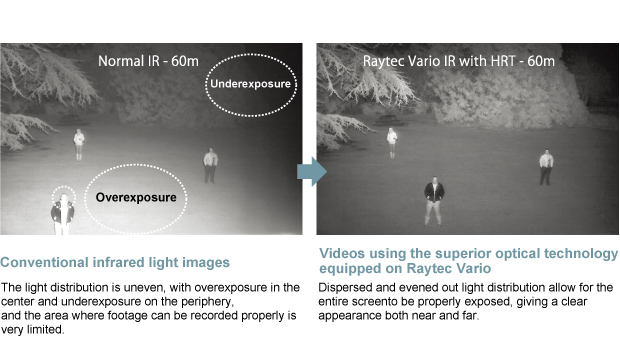 t is possible to identify the day and night by the illuminance sensor built into the body, and to switch the lighting on or off, as well as to perform light adjustment and sensor sensitivity adjustment remotely with a dedicated remote control.
Quick and simple settings allow for massive time saving in situations where they are installed on a large scale.

In order to deliver an image with optimal quality, they also have a large number of other features installed.
Raytec LED illuminators are designed to help any video surveillance system deliver the very best performance at night.
UK designed and manufactured, Raytec illuminators have been installed world-wide from the Arctic circle to the Jungles of Borneo.
Contact phone number
Headquarters

+81-77-579-8004