Synthesized Intelligent PIR : SIP-3020/4010/404 series
Synthesized Intelligent PIR : SIP-3020/4010/404 series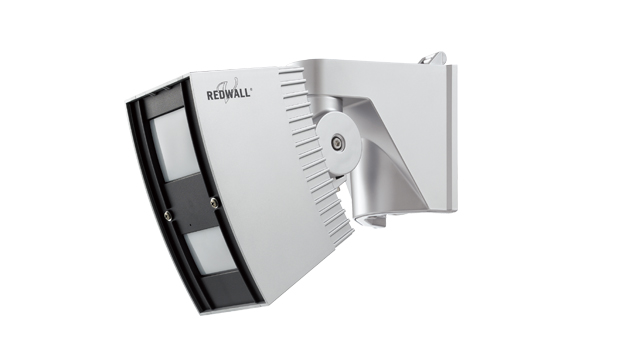 Standard model
SIP-3020[30m x 20m]
SIP-4010[40m x 10m]
SIP-404[40m x 4m]
With PoE / IP encoder model
SIP-3020-IP[30m x 20m with PoE / IP encoder]
SIP-4010-IP[40m x 10m with PoE / IP encoder]
SIP-404-IP[40m x 4m with PoE / IP encoder]
The SIP-3020, SIP-4010, and SIP-404 detectors in the REDWALL-V Series are designed for use in small and mid-sized outdoor areas. They have an intelligent detection system that uses data on the ambient environment, such as temperature and illuminance conditions, to automatically adjust the sensitivity.

Mechanisms for easy installation enable accurate adjustment of the detection area at setup, which results in more reliable operation. The optional AVF-1 Area View Finder allows the installer to visually identify the detection area.

The detectors are also equipped with anti-rotation and anti-masking. They can also detect vandalism or tampering on the units. These functions provide greater security in operations.

Detectors in the REDWALL-V Series are ideal for triggering outdoor camera systems where high performance is required.
Intelligent PIR Detection System
- Detection of ambient temperature and illuminance for automatic sensitivity management
- Advanced detection algorithm
- Three dual pyro-elements with patented Double Conductive Shielding
Anti-vandalism functions
- Anti-rotation function with 3-axis accelerometer
- Anti-masking function with photo-beam
- Reinforced polycarbonate housing
- Max. 4 m (13 ft.) installation height
Independent sensitivity selector for near/far areas
Detection logic selector
Detection range selector
Independent N.C. and N.O. outputs
Adjustable alarm interval time
BS8418 Compliant - U.K.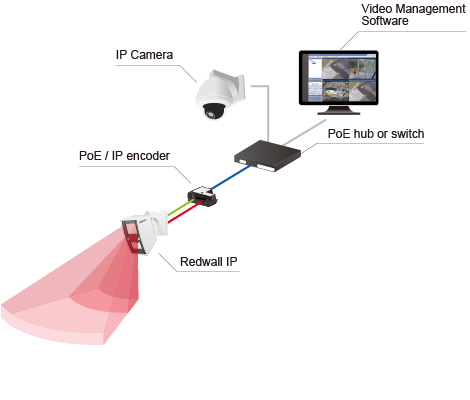 Coverage

Specifications

Demensions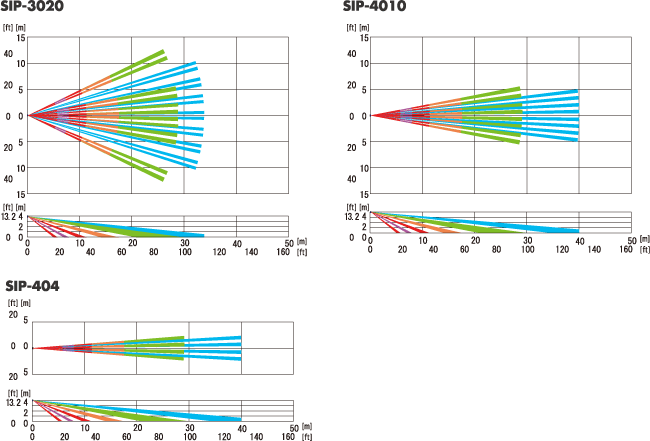 Model
SIP-3020
SIP-4010
SIP-404
Detection method
Passive infrared
Coverage
30 x 20 m (100 x 65 ft.)
40 x 10 m (130 x 33 ft.)
40 x 4 m (130 x 13 ft.)
Power input
11-26 VDC 22-26 VAC, 22-26 VDC/AC with optional heating unit
Current draw
40 mA max. (12 VDC) 75 mA max. (24 VAC), 415 mA max. (24 VAC) with optional heating unit
Mounting height
2.3 to 4 m (7.6 to 13 ft.)
Sensitivity selector
Far : SH/H/M/L Near : SH/H/M/L
Range selector
Far : On/Off
Alarm output
N.O., N.C., 28 VDC 0.2 A max.
Alarm interval period
Off/15, 30, 60 sec.
Trouble output
N.C., 28 VDC 0.2 A max.
Tamper output
N.C., 28 VDC 0.1 A max.
Alarm period
Approx. 2 sec.
Warm-up period
Approx. 60 sec.
Operating temperature
-25 to +60°C, -40 to +60°C with optional heating unit
(-13 to +140°F, -40 to +140°F with optional heating unit)
IP rating
Main unit : IP65
Chassis : IP55
Dimensions (H x W x D)
227 x 102 x 266 mm (9.0 x 4.0 x 10.5 in.)
Weight
1.2 kg (42 oz)
* Specifications and design are subject to change without prior notice.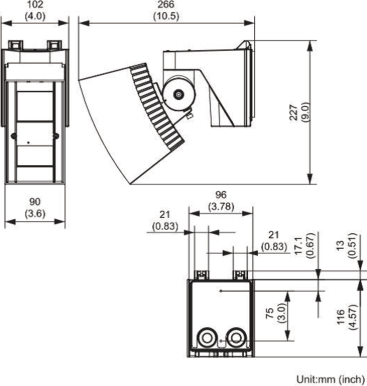 Contact phone number
Headquarters

+81-77-579-8004