Synthesized Intelligent PIR with creep zone : SIP-3020/5, 4010/5, 404/5 series
Synthesized Intelligent PIR with creep zone : SIP-3020/5, 4010/5, 404/5 series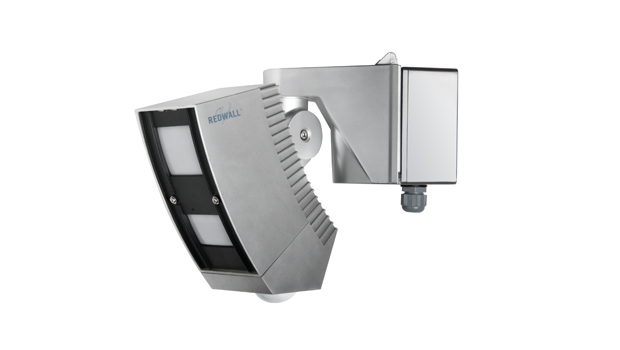 Standard model
SIP-3020/5[30m x 20m]
SIP-4010/5[40m x 10m]
SIP-404/5[40m x 4m]
With PoE / IP encoder model
SIP-3020/5-IP[30m x 20m with PoE / IP encoder]
SIP-4010/5-IP[40m x 10m with PoE / IP encoder]
SIP-404/5-IP[40m x 4m with PoE / IP encoder]
The SIP-3020/5, SIP-4010/5 and SIP-404/5 are designed for detection applications outdoors to trigger video transmission systems and PTZ camera control. These detectors have an intelligent detection system that uses data from the ambient environment, such as temperature and illuminance conditions, to automatically adjust the sensitivity. They are also equipped with anti-rotation and anti-masking functions, which can detect vandalism or tampering with the unit. Units in this series have an additional PIR detector on the bottom to cover the area just below the unit. The PIR detector on the bottom has independent output separate from the main detection. For video surveillance applications, the detection area should be within the camera's field of view in order to ensure that an intruder who triggers the alarm is seen. The detection angle in the main area of the SIP-3020/5, SIP-4010/5 and SIP-404/5 can be adjusted to easily match the camera field of view. And, the creep zone detector can be used for detection below and around the unit.
Intelligent PIR Detection System
- Detection of ambient temperature and illuminance for automatic sensitivity management
- Advanced detection algorithm
- Three dual pyro-elements with patented Double Conductive Shielding for main area
Built-in creep zone detector (Double dual pyro-elements)
Anti-vandalism functions
- Anti-rotation function with 3-axis accelerometer
- Anti-masking function with photo-beam
- Reinforced polycarbonate housing
- Max. 4 m (13 ft.) installation height
Independent sensitivity selector for creep/near/far areas
Detection logic selector
Detection range selector
Independent N.C. and N.O. outputs
Adjustable alarm interval time
BS8418 Compliant - U.K.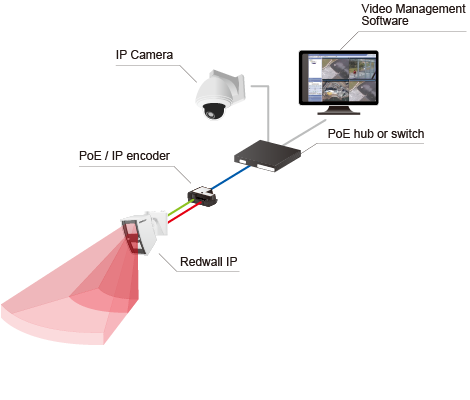 Coverage

Specifications

Demensions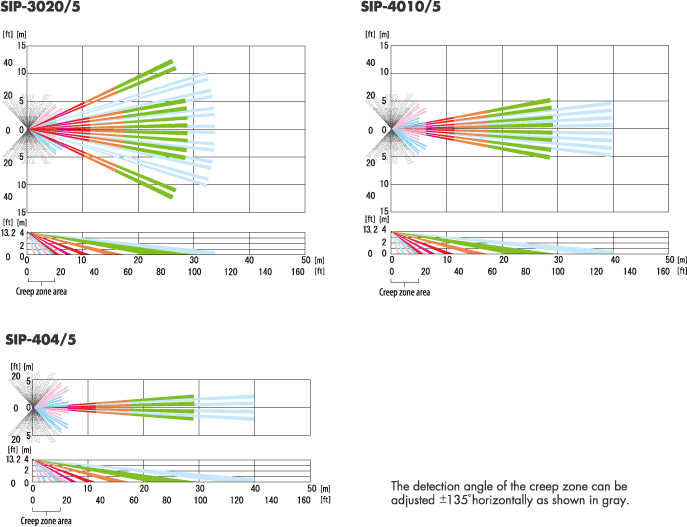 Model
SIP-3020/5
SIP-4010/5
SIP-404/5
Detection method
Passive infrared
Coverage (creep zone)
3 x 5 m (10 x 16 ft.) installed at 2.3 m (7.6 ft.)
height, 6 x 9 m (20 x 30 ft.) installed at 4 m (13 ft.) height
Power input
11-26 VDC 22-26 VAC, 22-26 VAC with optional heating unit
Current draw
45 mA max. (12 VDC) 85 mA max. (24 VAC), 425 mA max. (24 VAC) with optional heating unit
Mounting height
2.3 to 4 m (7.6 to 13 ft.)
Sensitivity selector
Far : SH/H/M/L Near : SH/H/M/L Creep zone : SH/H/M/L
Range selector
Far : On/Off
Detection logic selector
AND / OR
Alarm output (main area)
N.O., N.C., 28 VDC 0.2 A max.
Alarm output (creep zone)
N.O., N.C., 28 VDC 0.2 A max.
Alarm interval period
Off/15, 30, 60 sec.
Trouble output
N.C., 28 VDC 0.2 A max.
Tamper output
N.C., 28 VDC 0.1 A max.
Alarm period
Approx. 2 sec.
Warm-up period
Approx. 60 sec.
Operating temperature
-25 to +60°C, -40 to +60°C with optional heating unit
(-13 to +140°F, -40 to +140°F with optional heating unit)
IP rating
Main unit : IP65
Chassis : IP55
Dimensions (H x W x D)
248 x 102 x 266 mm (9.8 x 4.0 x 10.5 in.)
Weight
1.4 kg (48 oz)
* Specifications and design are subject to change without prior notice.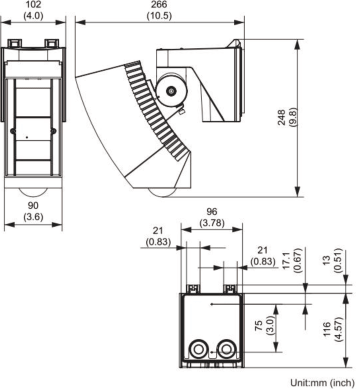 Contact phone number
Headquarters

+81-77-579-8004