Battery Operated Short Range Model : AX-TFR Series
Battery Operated Short Range Model : AX-TFR Series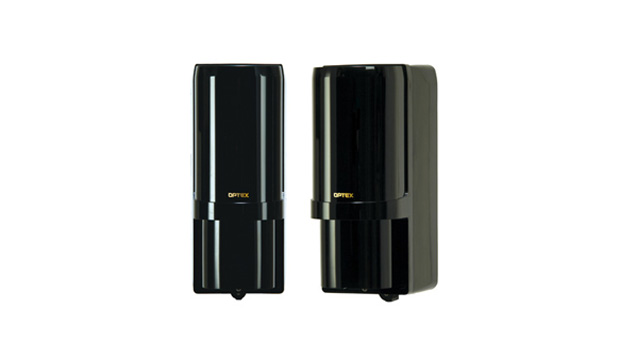 AX-100TFR[30m]
AX-200TFR[60m]
The AX-100/200TFR series is a "REVOLUTION" in the perimeter security industry,offering a significant cost saving alternative to a traditional hardwired system.
Long battery life
AX-100TFR: approx. 5 years
AX-200TFR: approx. 3 years
Battery life of AX-200TFR receiver is approx.5years
Easy battery replacement
Triple tamper functions
Low battery output and LED indication
Intermittent output function
Compatible with numerous wireless transmitters
Battery saving timer function for wireless transmitters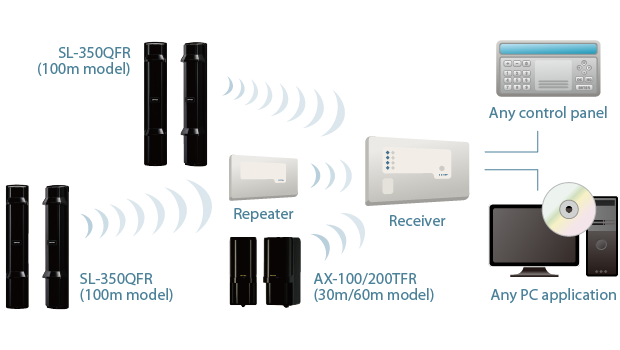 Ranges

Specifications

Dimensions

Model
AX-100TFR
AX-200TFR
Maximum detection range
30 m
60 m
Maximum arrival range
265 m
530 m
Detection method
Infrared beam interruption detection
Selectable beam frequencies
4 channel
Interruption period
Selectable between 50, 100, 250, and 500 msec.
Power supply
3.6 V 13.0 Ah: LSH20 lithium batteries manufactured by SAFT (not included) Transmitter: 2 units Receiver: 2 units
Current consumption (transmitter + receiver)
620 µA T : 300 µA + R : 320 µA (at 25°C, 3.6 VDC)
810 µA T : 490 µA + R : 320 µA (at 25°C, 3.6 VDC)
Battery life
Transmitter
5 years
3 years
Receiver
5 years
Alarm output
Form C-Solid State Switch: 3.6 VDC, 0.01 A
Alarm period
2 sec. (±1) nominal
D.Q. output
Form A/B-Solid State Switch : 3.6 VDC, 0.01 A
Low battery output
Form A/B-Solid State Switch : 3.6 VDC, 0.01 A (Transmitter & Receiver)
Tamper output for Front cover
Form C : 3.6 VDC, 0.01 A activates when cover removed. (Receiver only)
Alarm Indicator(Receiver)
(1) Light on - IR Beam not received. (2) Flickering Light - IR Beams not received sufficiently. (3) Light off - IR Beams received.
Power (Transmitter)
Power ON : ON, Power OFF : OFF
Low battery
Voltage Reduction: flicker
Tamper output for Back box
Form C : 3.6 VDC, 0.01 A activates when either back box or chassis is removed from the installment.
Operating temperature
-20°C – +60°C (-4°F – +140°F)
Environmental humidity
95% max.
Alignment angle
±90° Horizontal, ±5° Vertical
Mounting
Indoor/Outdoor, Wall/Pole/Tower mounting (Optional main unit mounting brackets are required, when the units mount in the tower.)
Weight (transmitter+receiver)
1,600 g (56.5 oz.) (Total weight of transmitter + receiver,excluding accessories)
International protection
IP55
* Specifications and design are subject to change without prior notice.
Unit(mm)
Contact phone number
Headquarters

+81-77-579-8004