Microwave sensor OM-105C / 106C
Microwave sensor OM-105C / 106C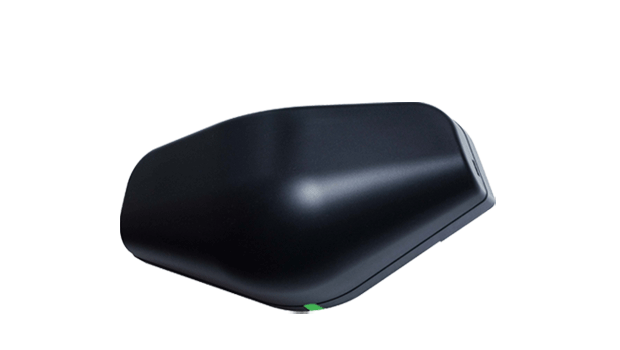 OM-105C(S)
OM-105C(BL)
OM-106C(S)
OM-106C(BL)
Activation
CE
Color variations
Silver

Black
The OPTEX OM-105C and 106C microwave sensors have been specially designed to increase the comfort on opening all types of automatic doors. The OPTEX microwaves provide fast detection for all automatic door installations and particularly for applications with high-speed entries. Due to the industrial design and easy installation, these sensors will fit on every header or ceiling in any application you can imagine.
The OPTEX microwave range offers a narrow or wide detection area that makes it suitable for all types of installations. The narrow setting is easy to set by simply clicking the narrow lens on to the radar module. By turning the module left or right and tilting it up and down the microwave can be adjusted quickly and easily for many different applications. No external set-up device is needed.
When installed above the pivot the OPTEX OM-106C will ignore the movement of a swing door. Therefore, it is ideal to install as a swing door activation sensor.
The Auto-Caution Mode provides greater reliability to prevent the door from closing, even if a person is lingering in the detection area. The sensor will immediately change from uni-directional to multi-directional for safety purposes. This function is only available on the OM-106C.
The OM-106C is equipped with a dipswitch for uni-directional or bi-directional mode. In uni-directional mode the sensor will only detect traffic approaching the door, allowing the door to close more quickly after departing traffic. Rapid door closure provides a significant benefit to the end-user as the doors will remain open for only a limited time, thus contributing to saving energy.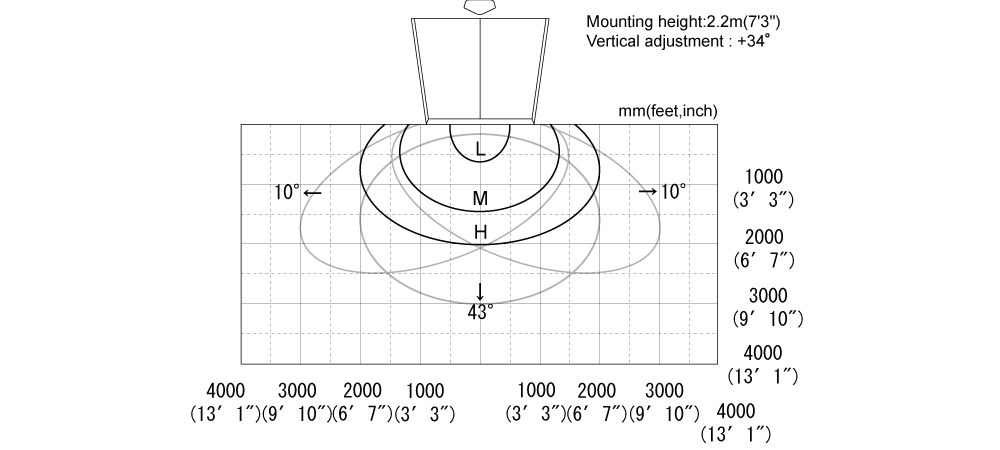 Adjust the detection area with Sensitivity potentiometer.
When the sensor is mounted at higher than 3000 mm, set the Sensitivity to ''H (high).''
Specifications

Dimensions
Model
OM-105C / OM-106C
Cover color
Silver, Black
Mounting height
2.0 m to 3.5 m (6'7'' to 11'5'')
Detection method
Microwave doppler effect
Transmitter frequency
24.125 GHz
Transmitter radiated power
< 20 dBm
Detection area
See Detection area
Vertical adjustment
+10° to +70° (Header mount)
+20° to +80° (Ceiling mount)
Horizontal adjustment
30° to left or right
Power supply
12 to 24VAC (±10%)
12 to 30VDC (±10%)
Power consumption
< 1.5 W (< 2VA at AC)
Minimum speed
5 cm (1 15/16") /sec.
Operation indicator
Green: Stand-by
Red: Detection
Green blinking: Set-up
Output
Form C relay
50V 0.3A Max. (Resistance load)
Output hold time
0.5 sec. / 2.0 sec.
Response time
< 0.3 sec.
Operating humidity
< 80%
Operating temperature
-20°C to +55°C (-4°F to 131°F)
IP rate
IP54
Weight
140 g (4.9 oz)
Accessories
1 Cable 3 m (9'10'')
1 Operation manual
2 Mounting screws
1 Mounting template
1 Narrow lens *
* At the back of housing cover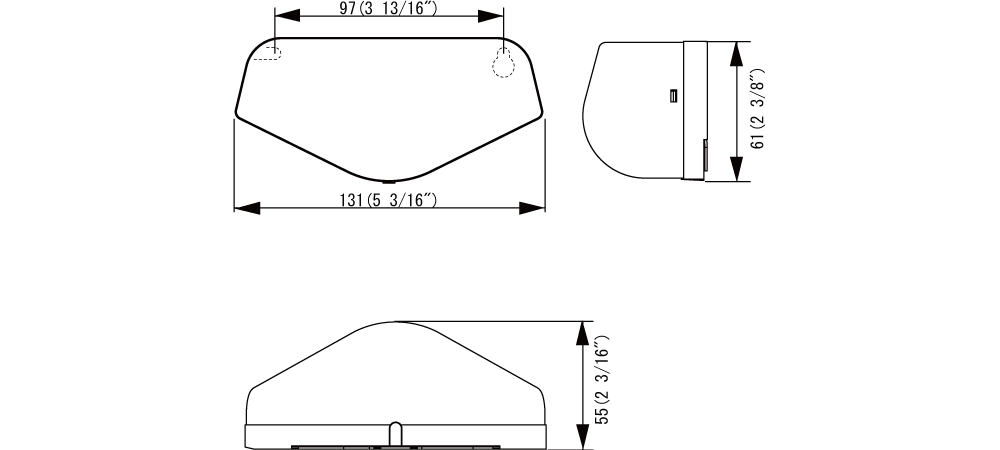 mm (inch)
The specifications herein are subject to change without prior notice due to improvements.
Contact phone number
Headquarters

+81-77-579-8700