Active infrared sensor OA-AXIS I / AXIS II
Active infrared sensor OA-AXIS I / AXIS II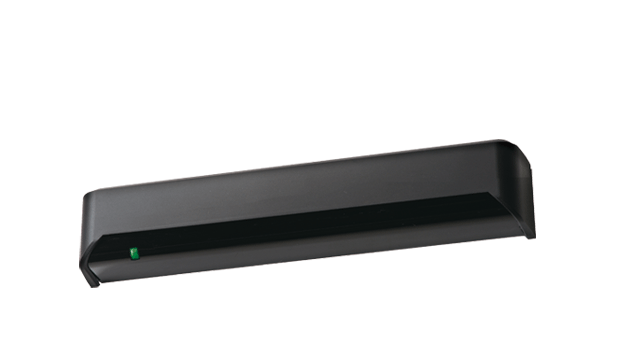 OA-AXIS I(S)
OA-AXIS I(BL)
OA-AXIS II(S)
OA-AXIS II(BL)
Activation&Safety
CE, EN
Color variations
Silver

Black
The OPTEX OA-AXIS series is the new automatic door standard for use on sliding doors based on the active infrared technique. The OA-AXIS series has been developed as a combination sensor for threshold safety and activation.
The OPTEX OA-AXIS series is the world's first door sensor based solely on the active infrared technique, combining activation and safety into one sensor. By using the unique OPTEX presence detection technique, the OA-AXIS series provides maximum safety around the threshold while simultaneously offering a large motion detection area for the door activation.
The active infrared presence detection of the OA-AXIS series can be set very accurately and can be moved 6° toward or away from the door. The installation of safety beams is no longer mandatory. The sensor detects a person or object and holds the door open for as long as they are in or near the threshold area, even if they stop or pause.
The large detection area enables rapid detection of any traffic, including trolleys, approaching from any angle. The sensor's enhanced pattern depth means it can detect people and objects farther away, thus allowing the door to open conveniently for them. The presence and motion detection areas can be adjusted independently.
By offering different types of output contacts the OA-AXIS series meets the requirements and local standards in many different markets.
OA-AXIS I: 1 relay output for activation and safety
OA-AXIS II: 1 relay for safety and a second relay for motion/activation
Installation time can be minimized using the easily set switches and shutters, meaning the sensor can be quickly adjusted for many different applications. The use of an OPTEX Infrared finder is recommended to adjust the presence detection area.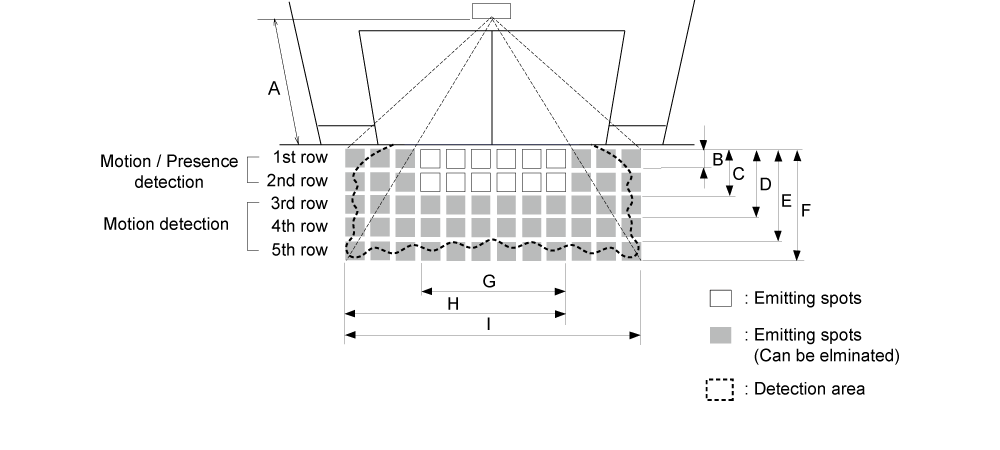 mm (feet, inch)
Mounting height
A
2200 (7'3'')
2500 (8'2'')
2700 (8'10'')
3000 (9'10'')
3500 (11'6'')
B
140 (6'')
160 (6'')
180 (7'')
200 (8'')
230 (9'')
C
420 (1'5'')
480 (1'7'')
520 (1'8'')
580 (1'11'')
670 (2'2'')
D
820 (2'8'')
930 (3'1'')
1000 (3'3'')
1100 (3'7'')
1300 (4'3'')
E
1350 (4'5'')
1540 (5'1'')
1660 (5'5'')
1850 (6'1'')
2160 (7'1'')
F
1900 (6'3'')
2170 (7'1'')
2340 (7'8'')
2600 (8'6'')
3030 (9'11'')
G
1330 (4'4'')
1510 (4'11'')
1630 (5'4'')
1810 (5'11'')
2110 (6'11'')
H
2050 (6'9'')
2320 (7'7'')
2510 (8'3'')
2790 (9'2'')
3260 (10'8'')
I
2780 (9'1'')
3150 (10'4'')
3400 (11'2'')
3790 (12'5'')
4420 (14'6'')
The actual detection area may become smaller depending on the ambient light, the color / material of the object or the floor as well as the entry speed of the object.
The values of the chart above is of the emitting spots, but not of the detection area.
Specifications

Dimensions
Model
OA-AXIS I /OA-AXIS II
Cover color
Silver, Black
Mounting height
2.0 m to 3.5 m (6'7'' to 11'5'')
Detection area
See Detection area
Detection method
Active infrared reflection
Depth angle adjustments
1st to 3rd rows -6° to +6°
4th and 5th rows +26° to +44°
Power supply
12 to 24VAC (±10%)
12 to 30VDC (±10%)
Power consumption
OA-AXIS I < 3 VA
OA-AXIS II < 4 VA
Operating indicator
Green: Stand-by
Red blinking: 1st row detection
Red: 2nd row detection
Orange: 3rd to 5th rows detection
Output
OA-AXIS I
Form C relay 50V 0.3A Max. (Resistance load)
OA-AXIS II
1st to 3rd rows: Form C relay 50V 0.3A Max. (Resistance load)
3rd to 5th rows: Form C relay 50V 0.3A Max. (Resistance load)
Output hold time
Approx. 0.5 sec.
Response time
< 0.3 sec.
Operating temperature
-20°C to +55°C (-4°F to 131°F)
IP rate
IP44
Weight
320 g (11.2 oz)
Accessories
1 Cable 3 m (9'10'')
1 Operation manual
2 Mounting screws
1 Mounting template
1 Area adjustment tool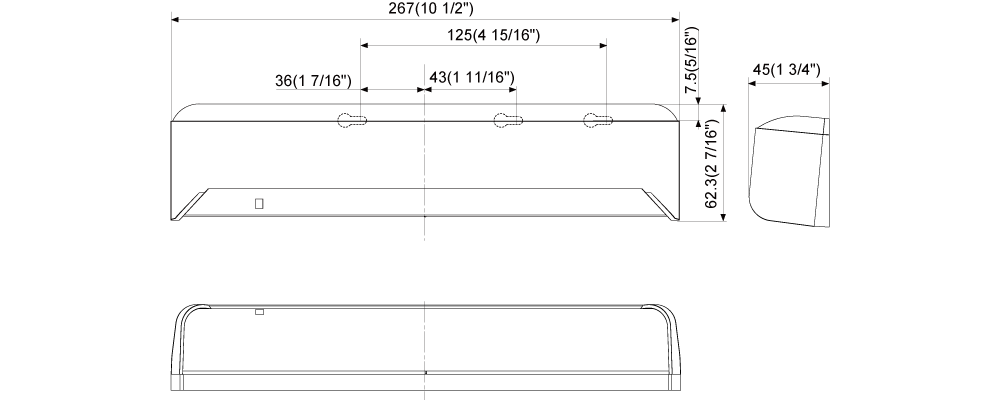 mm (inch)
The specifications herein are subject to change without prior notice due to improvements.
Contact phone number
Headquarters

+81-77-579-8700