Optex and Switch Smile Join Forces to Support the Digital Information Revolution with OMNICITY Subscriptions
04/26/2021
Optex and Switch Smile Join Forces to Support the Digital Information Revolution with OMNICITY Subscriptions
Optex Co., Ltd. (Headquarters: Otsu City, Shiga Prefecture, President & CEO: Toru Kamimura, hereinafter "Optex") has entered into a business alliance with Switch Smile Co., Ltd. (Headquarters: Chiyoda Ward, Tokyo, President & CEO: Daizo Nagahashi, hereinafter "Switch Smile") to support the drive toward digitalization of information in retail locations. Combining Optex's OMNICITY sharing service that utilizes automatic door sensors with a beacon function and Switch Smile's pinable point-of-interest location information marketing platform, Optex will be introducing a subscription service that allows retailers to use their independently developed apps to detect store visits, distribute real-time push notifications, and analyze visitors' behavioral data—all with no initial investment required. This service will enable new revenue models that allow users to not only promote their establishment but also distribute advertisements for consumer goods and other products to those entering their facility.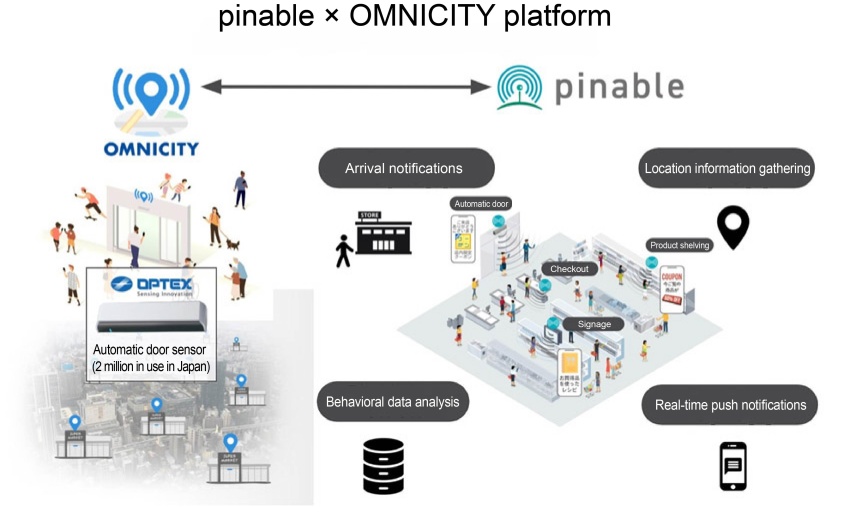 Driven by a growing need to capture both online and offline data from customers, in-store digital information usage has been increasing rapidly.
Offline data on store visitors is in particularly high demand as it allows stores to reach out both to customers that have made purchases and to app users that have yet to make a purchase but who are likely to do so in the future. Conventional methods using GPS, Wi-Fi, or other tools also include app users simply passing by the store, making it impossible to accurately capture micro-location data. Other services based on input from cameras or other devices offer accurate information on the number of store visitors, but do not allow for interaction with shoppers.
The automatic door sensors with beacon function used for OMNICITY are ideally located for gathering high-accuracy data at the entrances to stores. Facility owners can capture accurate visitor data through the store app, and this can then be used for developing OMO marketing data.
OMO marketing applications
・ Delivering coupons or points to visitors
・ Delivering information on promotions, etc.
・ Delivering premium coupons for frequent visitors
・ Encouraging visitors who haven't been to the store for some time to visit again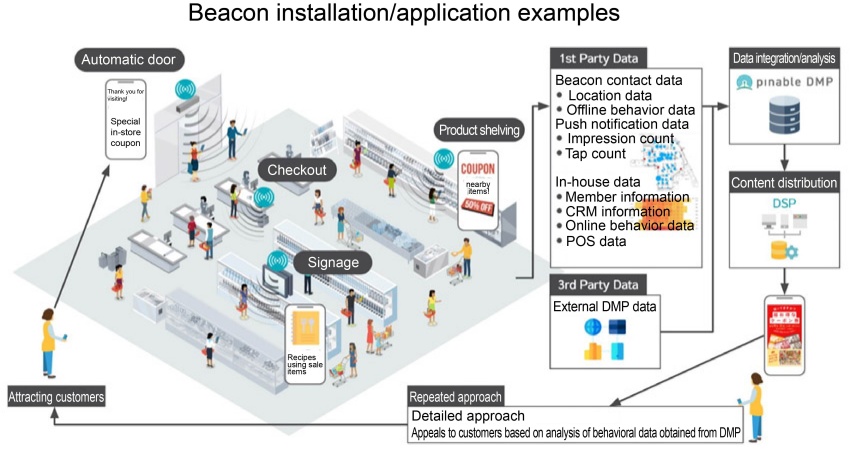 Subscription coverage
• pinable usage fees
• OMNICITY equipment fees, installation fees, and beacon startup fees
* Only monthly usage fees apply.
About OMNICITY
OMNICITY uses automatic door sensors with a built-in beacon function to turn facility entrances into information-sharing hotspots. This system allows users to create value in various ways, including advertisements in retail stores, automated reception in hospitals and hotels, and seating in restaurants.
About pinable
Instead of GPS, Wi-Fi, and other methods used by conventional area-based location platforms, pinable uses beacons to provide micro-location advertising and marketing analysis solutions. The service can also create a location DMP from behavioral data gathered through these solutions. In addition to location information, this data can also be analyzed for tag information such as user attributes, behavioral patterns, and environmental information for marketing use. This allows pinable users to provide solutions with higher customer engagement.
■ Overview of Switch Smile Co., Ltd.
Headquarters: 11F Kanda Square, 2-2-1 Kanda Nishikicho, Chiyoda-ku, Tokyo
Head office: 9-12 Midorimachi, Koriyama-shi, Fukushima
President & CEO: Daizo Nagahashi
Description of business: Development and provision of POI location information platform, construction and provision of open beacon networks, DMP construction and analysis for behavior and experiences, development of location-based applications, development and provision of LINE Bot platforms, and location information strategy consulting
Inquiries about this news release
Naoki Kageyama, Public Relations and Promotion Department
E-mail:oj-pr@optex.co.jp