04/21/2021
Lumitester Smart ATP Hygiene Monitoring System — iF Design Award 2021 Winner
The Lumitester Smart ATP hygiene monitoring system—a joint development from Optex Co., Ltd. (Headquarters: Otsu City, Shiga Prefecture, President & CEO: Toru Kamimura, hereinafter "Optex") and Kikkoman Biochemifa Company (Headquarters: Minato Ward, Tokyo, President & CEO: Asahi Matsuyama, hereinafter "Kikkoman Biochemifa")—has won the German iF Design Award 2021, one of the world's top three design awards. In an effort to contribute to the future of global hygiene management, the Lumitester Smart was designed with careful attention to operability, application UI, and applicability as an inspection tool that can be used easily by a wide range of people.

Mobile devices not included with product.
Award-winning product: Lumitester Smart
Award category: Product Design
Product overview:
The Lumitester Smart—a joint development from Optex and Kikkoman Biochemifa—is an ATP hygiene monitoring system capable of detecting and quantifying stains and residues undetectable by the human eye in restaurant kitchens, food processing facilities, healthcare facilities, and more using a 10-second process with just three simple steps: wipe, measure, review. This allows users to implement appropriate countermeasures quickly and on the spot for improved hygiene management, helping to prevent food poisoning and other health hazards. The system also facilitates long-term management of measurements through immediate monitoring and sharing of results via a smartphone app and cloud-based sharing, making it easier for even more people to manage cleanliness.
Click here for more information on this award-winning product:  https://biochemifa.kikkoman.co.jp/la/smart/ 
Design features:
The Lumitester Smart features a smooth, rounded design with an easy-to-use interface and a built-in rear stand. The black display represents the reliability of the test results, while the white control panel represents cleanliness. Meanwhile, the bright but unobtrusive orange buttons indicate the ease of measurement. The design is meant to minimize psychological resistance in order to make the device easy for anyone to use.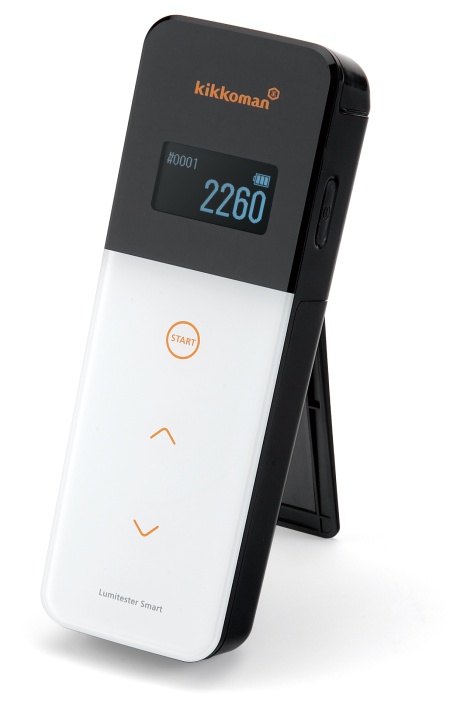 About the iF Design Award
Since its inception in 1953, the iF Design Award—presented by iF International Forum Design GmbH in Hannover, Germany—has recognized excellence in industrial design from all over the world.
The iF Design Award is considered one of the world's top three design awards along with Germany's Red Dot Award and the USA's IDA (International Design Awards).
Inquiries about this news release
Naoki Kageyama, Public Relations and Promotion Department
E-mail:oj-pr@optex.co.jp