Introducing the Crowd Alert Sensor for Detecting Crowd Conditions -Sensor Technology to Help Avoid the Three Cs
04/08/2021
Introducing the Crowd Alert Sensor for Detecting Crowd Conditions
-Sensor Technology to Help Avoid the Three Cs
Optex Co., Ltd. (Headquarters: Otsu City, Shiga Prefecture, President & CEO: Toru Kamimura, hereinafter "Optex") will begin sales of its Crowd Alert sensor on April 8. This sensor detects the number of people entering and exiting a facility to notify visitors of crowded conditions using a built-in indicator light. When installed at the entrances and exits of a facility, the infrared Crowd Alert sensor counts the number of people passing by, and if the number of people in the facility exceeds a set value, the indicator light changes color to alert visitors of crowded conditions. Crowd Alert makes it possible to prevent crowding by alerting visitors without having to use actual workers.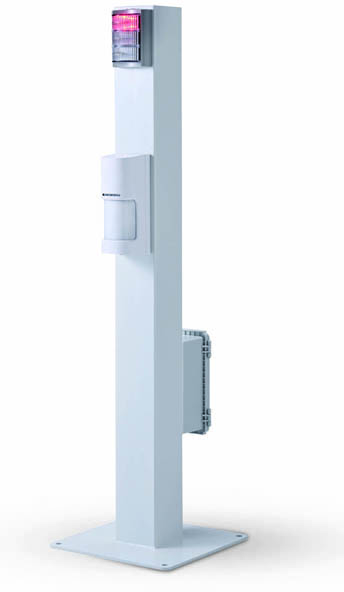 The COVID-19 pandemic has made it important to avoid the Three Cs—closed spaces, crowded places, and close-contact settings—when visiting stores and other commonly crowded locations. Conventional measures to prevent such situations involve personnel at entrances and exits of a facility to monitor and control the number of people entering. In situations where conditions inside a facility cannot be determined from the entrances and exits, identifying crowded conditions requires physically entering the facility, which can inadvertently increase crowding.
The Crowd Alert sensor can be installed at entrances and exits for simplified monitoring of inside conditions. Visitors can easily check crowd conditions using the built-in indicators without having to enter.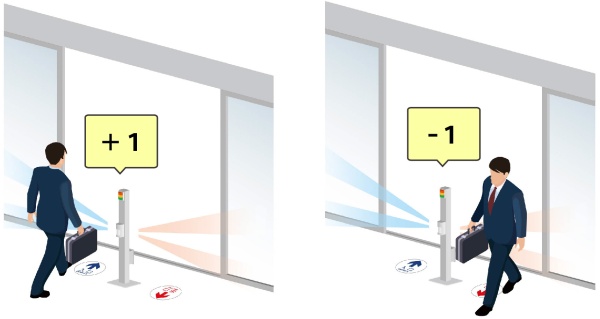 The sensor on the front of the device detects and counts people entering or leaving a facility. Crowded conditions can be set to two levels, and the LED indicator light will automatically switch from green to yellow or red if the number of people detected exceeds the configured relevant level. (The indicator light automatically switches back from red to yellow and green as people leave the facility.) The counter on the back of the device can also be used to check the number of people in a location in real-time.
Three-color LED indicator (red/yellow/green) to indicate crowd status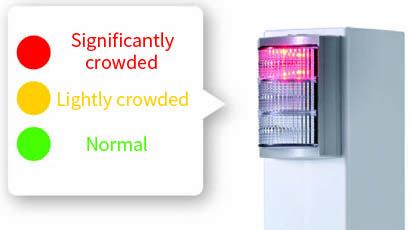 Simple installation
To use the sensor, simply place the device and plug in the power supply.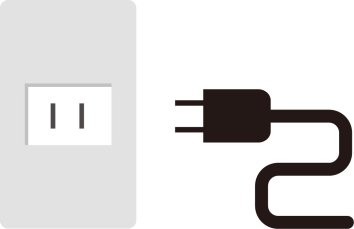 Includes sensors with false-positive reduction logic
The high-accuracy sensor in the Crowd Alert system counts passers-by only if both the upper and lower detection areas are triggered at the same time.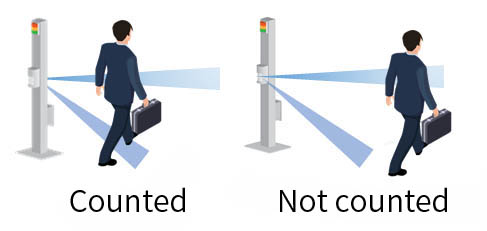 This product should be used only in locations with one entrance and exit. Use in locations with multiple entrances and exits is not possible.
This product indicates approximate crowd conditions by detecting people entering or leaving a facility. The actual crowd conditions may vary depending on the installation environment and the amount of traffic passing by.
| | |
| --- | --- |
| Model | MA-01 |
| Detection method | Passive infrared sensor |
| Sensor detection range | Approx. 1.3 m |
| Power supply | 12 VDC (AC adapter included) |
| Installation location | Indoors (not waterproof) |
| Operating temperature range | 0 to 40°C (no condensation) |
| Power cord length | Approx. 1.8 m |
| Outer dimensions | 110 × 30 × 30 cm |
| Weight | Approx. 10 kg |
The specifications herein are subject to change without prior notice due to improvements.
Optex is dedicated to helping create safe, secure, comfortable environments using its advanced sensor technology cultivated through security and automatic door applications, even amid the COVID-19 pandemic.
Inquiries about this news release
Naoki Kageyama, Public Relations and Promotion Department
E-mail:oj-pr@optex.co.jp