OPTEX launches the LINK-BT1 Wireless Dry Contact Converter for Industrial Door Sensors
11/04/2020
OPTEX launches the LINK-BT1 Wireless Dry Contact Converter for Industrial Door Sensors

Supporting Safety Measures at the Entrances and Exits of Warehouses and Factories Where Vehicles and People Perform Cargo-Handling and Transportation
Optex Co., Ltd. (Headquarters: Otsu City, Shiga Prefecture, President & CEO: Toru Kamimura, hereinafter "Optex") will, in mid-November, begin sale of LINK-BT1, a wireless dry contact converter for industrial door sensors at entrances and exits of manufacturing and logistics facilities. The sensor responsible for activating the door detects when a person or vehicle is approaching the door and sends a signal to the wireless dry contact converter, and by activating the connected notification device, it is possible to call attention to the surroundings, helping prevent collisions and contact accidents, and supporting on-site safety measures.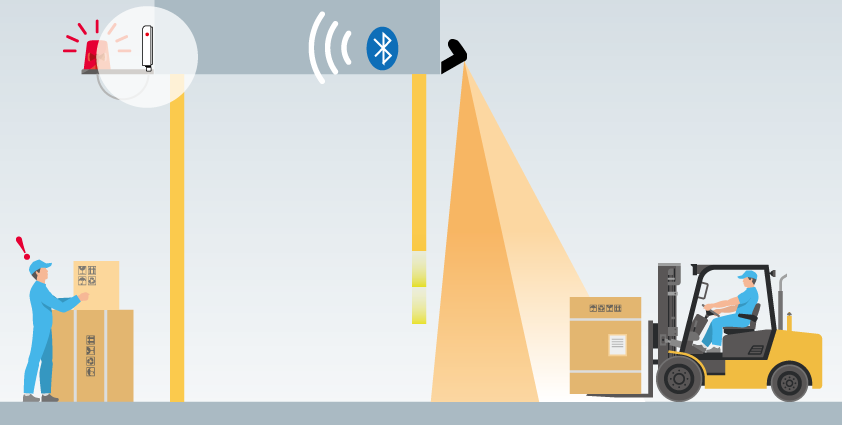 Fabric doors with activation and safety sensors are commonly used at the entrances and exits of manufacturing and logistics facilities, that support the infrastructure of society, to control incoming and outgoing vehicles and to maintain the working environment. Sites where cargo handling and transportation work is performed present a high risk of contact accidents between vehicles or between vehicles and people, so there is a need to improve the safety of transportation routes.
In addition to opening and closing, Optex's industrial door sensor has an approach warning zone that can be used to ensure safety around the door, allowing for quick advance detection of any approach before the door opens. The LINK-BT1 wireless dry contact converter using BLE communication-(※) receives the detection signal and then activates a connected notification device such as a revolving light or sound alarm. It alerts those nearby of the approach of a vehicle or person, and contributes to the prevention of human accidents and property damage caused by collisions.
BLE is an abbreviation of Bluetooth Low Energy and refers to a low power consumption wireless communication technology used in electronic devices, etc.
Bluetooth is a registered trademark of Bluetooth SIG, Inc.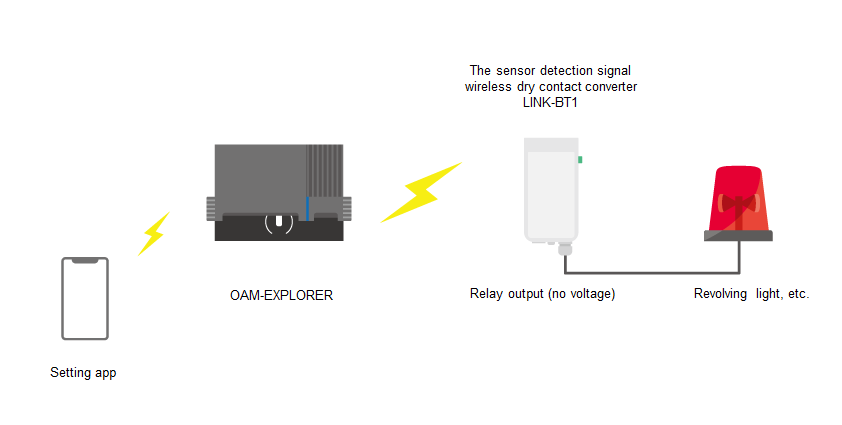 1.Wireless transmission of approach information even remotely
The industrial door sensor and wireless dry contact converter are connected via BLE, and are easy to install without wiring. In addition, since approach information can be transmitted up to 30 m, it is possible to call attention at remote locations on the premises.
2.Five wireless dry contact converters can be connected to a single sensor
Approach information detected by the sensor can be sent simultaneously to five wireless dry contact converters. For example, the separate units can be installed in various workspaces such as near doors, outdoor cargo receiving areas, vehicle travel routes, and offices.
3.Can be retrofitted to existing sites
If a site is equipped with a compatible industrial door sensor, the wireless dry contact converter can be connected afterward, making it possible to easily improve safety without changing the layout.
■ LINK-BT1 wireless dry contact converter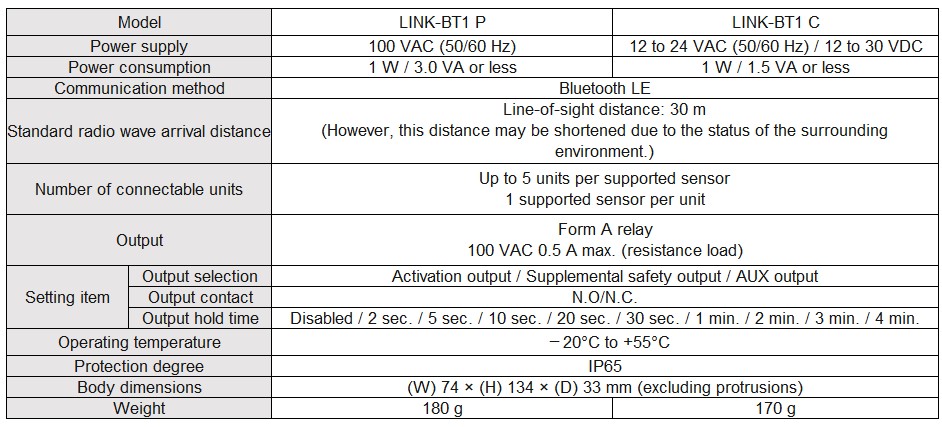 ■ OAM-EXPLORER industrial door sensor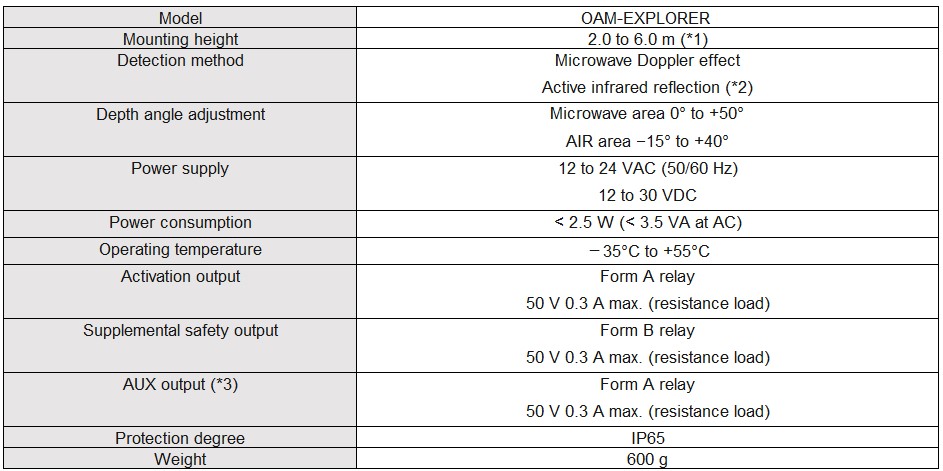 *1:When detecting a person, a mounting height of no more than 4 m is recommended. Be sure to check the operation when installing at a height of over 4 m.
*2:There is a stationary body detection function in all AIR areas.
*3:This product can output to notification devices such as revolving lights and buzzers.
※The specifications herein are subject to change without prior notice due to improvements.

Optex will continue to provide highly reliable industrial door sensors and added-value solutions. In this way, we will create safe, secure, and comfortable work environments in factories and warehouses around the world.
Inquiries about this news release
Akiko Otsuka | Madoka Inakazu
Public Relations and Promotion Department
E-mail:oj-pr@optex.co.jp