09/29/2020
OPTEX launches Touchless Plate Sticker for Door Sensors

Toward a Contact-free and Hygiene Management
Optex Co., Ltd. (Headquarters: Otsu City, Shiga Prefecture, President & CEO: Toru Kamimura, hereinafter "Optex") will release a Touchless Plate Sticker for door sensors in mid-October. This plate sticker can be attached to an automatic door to detect hands that approach it and open the door accordingly. It is intended for use in combination with the specialized automatic door sensor installed on the header-(※) in the upper part of an automatic door, and is designed with a new icon and shape to promote non-contact opening and closing of doors. This reduces concerns about coming into contact with a doorknob or touch-type automatic door that a large number of people may have previously touched, and supports not only a feeling of safety and security on the part of the user but more effective hygiene management in stores and other facilities.
The header refers to the frame above the door opening where the door open/close mechanism is usually installed.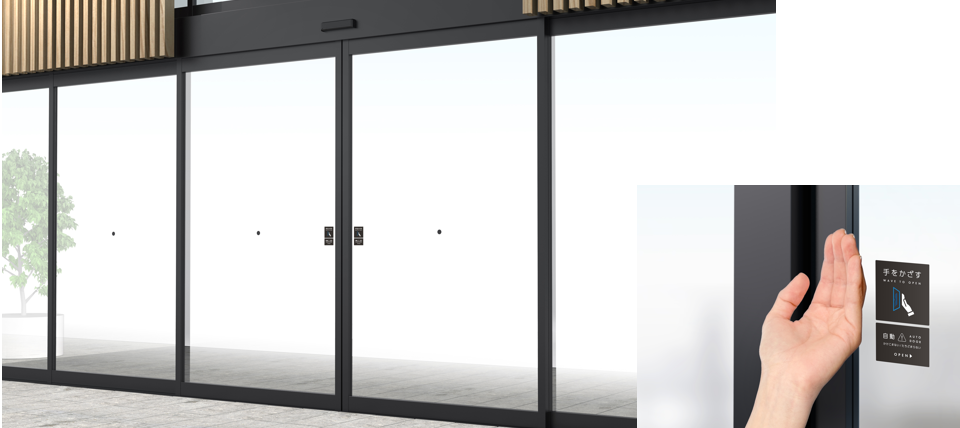 With the outbreak of the novel coronavirus, people's day-to-day activities and ways of thinking have changed, and more and more initiatives have been introduced to promote voluntary prevention of the spread of infection. The Japanese government's Basic Policies for Novel Coronavirus Disease Control have established guidelines for each job type and facility, and businesses have been maintaining and executing various infection-prevention measures such as providing alcohol-based disinfectant, cleaning/sterilizing locations that come in contact with a large number of unspecified parties, and avoiding the Three Cs (Crowded places, Close-contact settings, Confined and enclosed spaces). In order to continue to live with peace of mind, it is important that both businesses (stores) and their customers implement preventative and hygienic measures.
With Optex's Touchless Plate Sticker, positioning your hand in front of the plate sticker allows the door sensor in the upper part of the automatic door to detect this and open the door. Because the door can be used without touching anything, any unease felt by customers is alleviated, and the store is also able to achieve cleanliness management. The plate sticker has an icon to help people understand that they can place their hand over it without direct contact and has a shape that is visually recognizable.
By changing the design of the plate sticker installed on the glass surface of the door, we hope to change the way people think and act, and that this practice of waving a hand to open the door will spread as a new and healthy habit even after the pandemic is over. Additionally, on the business side, installing such a plate sticker sends a strong visual message that your store cares about its customers' health and is implementing preventative and hygienic measures, which will make your customers feel safe and secure.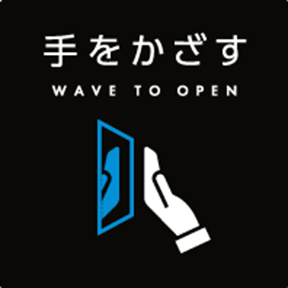 ■ OAT-3V Non-contact door sensor (installed on the header)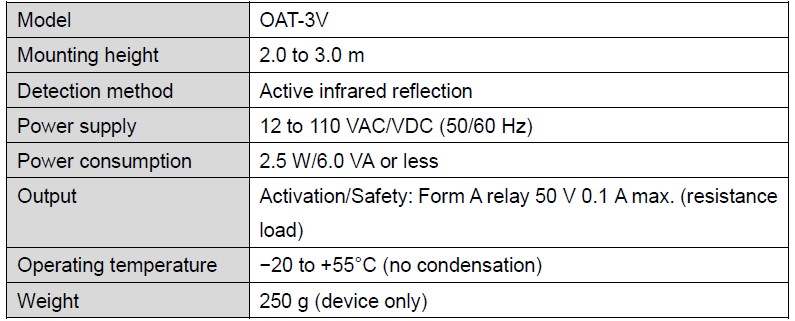 The specifications herein are subject to change without prior notice due to improvements.
■ Touchless Plate Sticker

This is an optional supplement for the OAT-3V.
The specifications herein are subject to change without prior notice due to improvements.
Touchless Plate Sticker is designed for Japan market.
Optex will continue to support responses to the New Normal in a variety of scenarios, such as restaurants, commercial facilities, medical facilities, and public facilities, using our original technologies and ideas, based on the keywords hygiene, safety, and peace of mind.
Inquiries about this news release
Akiko Otsuka | Madoka Inakazu
Public Relations and Promotion Department
E-mail:oj-pr@optex.co.jp