Introducing e-Smooth Sensor Built-In Automatic Door Sensor —Visually Pleasing, High-Performance Integrated Door Sensors
09/23/2020
Introducing e-Smooth Sensor Built-In Automatic Door Sensor
—Visually Pleasing, High-Performance Integrated Door Sensors
Movement/cross-traffic detection for door actions adjusted to walking speed and travel direction
Optex Co., Ltd. (Headquarters: Otsu City, Shiga Prefecture, President & CEO: Toru Kamimura, hereinafter "Optex") will launch the e-Smooth Sensor Built-In automatic door sensor, designed for header-(※) or ceiling-mounted installations in buildings and commercial facilities, in October 2020. This built-in door sensor detects both walking speed and direction of travel to reduce unnecessary door movements, making it easier to maintain not only a comfortable indoor environment but also unified building and indoor space aesthetics.
The header refers to the frame above the door opening where the door open/close mechanism is usually installed.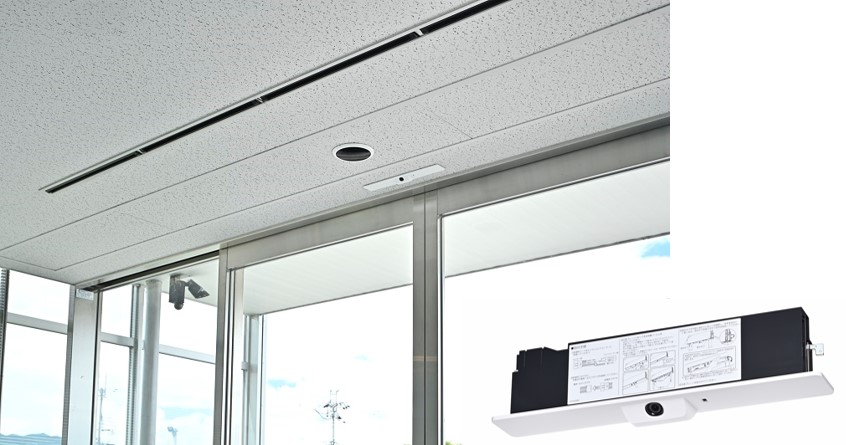 Optex developed and introduced its e-Smooth Sensor line of automatic door sensors in 2017. These sensors use imaging technology to detect walking speed and direction of travel, ensuring an optimal door opening interval according to how fast each person walks while also saving energy by reducing unnecessary open/close movements for cross-traffic. e-Smooth Sensors provide comfortable access, help reduce electricity usage by roughly 30% (compared with conventional models), and contribute to an improved indoor environment. Since their release, e-Smooth Sensors have been adopted in various facilities, including customer entrances of large shopping malls, home center material loading gates, hospital visitor entrances, and main lobbies of office buildings.
Central Tokyo is home to several large-scale redevelopment and office building construction projects, and the number of facilities and buildings featuring distinctive architecture and elaborate entrances is increasing. The design firms and management companies involved in these projects pay particular attention to entrances, as these areas are the first thing people see when entering the building. The new e-Smooth Sensor Built-In models expand the product lineup to better support modern entrance designs through improved harmony with interior spaces in addition to conventional design concepts.
Features of e-Smooth Sensors
1.Expanded lineup with visually-pleasing built-in models
Designed to be mounted in the header or the ceiling, the e-Smooth Sensor Built-In model can be adapted to virtually any installation environment. The optional white cover for ceiling-mounted installations also helps ensure the product does not stand out against white ceilings.
2.Automatic doors attuned to walking speed
The door sensor accurately detects the walking speed of pedestrians approaching the door and opens the door with the best timing for each person—faster for those walking faster than average, slower for those walking slower—to help ensure comfortable, safe passage through the door.
3.Reducing unnecessary door actions by remaining closed for cross traffic
By detecting the direction of travel, e-Smooth Sensors can ensure that the door opens only when a pedestrian is entering or exiting and not just passing by. Preventing unnecessary door movements makes it possible to reduce the transfer of air outside the space, significantly improving air conditioning efficiency and saving energy.
1,000 units in the first year

The camera in the VVS-1 is required for the detection principle and does not have a recording function.
The specifications herein are subject to change without prior notice due to improvements.
VVS-1 BUILT-IN is designed for Japan market.
This product can make it easier to establish a comprehensive building/facility design by considering the overall aesthetics and reducing energy usage for improved customer safety and accessibility, making it easier to manage the facility and to create an ideal entrance space for safe facility access.
Inquiries about this news release
Akiko Otsuka | Madoka Inakazu
Public Relations and Promotion Department
E-mail:oj-pr@optex.co.jp