Lumitester Smart" ATP Hygiene Monitoring System — 2019 Good Design Best 100 Award Winner
10/02/2019
Lumitester Smart" ATP Hygiene Monitoring System — 2019 Good Design Best 100 Award Winner
A Joint Development from Kikkoman Biochemifa and Optex
The "Lumitester Smart" ATP hygiene monitoring system—a joint development from Kikkoman Biochemifa Company (Headquarters: Minato Ward, Tokyo, President & CEO: Asahi Matsuyama, hereinafter "Kikkoman Biochemifa") and Optex Co., Ltd. (Headquarters: Otsu City, Shiga Prefecture, President & CEO: Toru Kamimura, hereinafter "Optex")—has been selected as a 2019 Good Design Best 100 product (Organizer: Japan Institute of Design Promotion). In an effort to contribute to the future of global hygiene management, the Lumitester Smart was designed with careful attention to the operability, application UI, and applicability as an inspection tool that can be used easily by a wide range of people.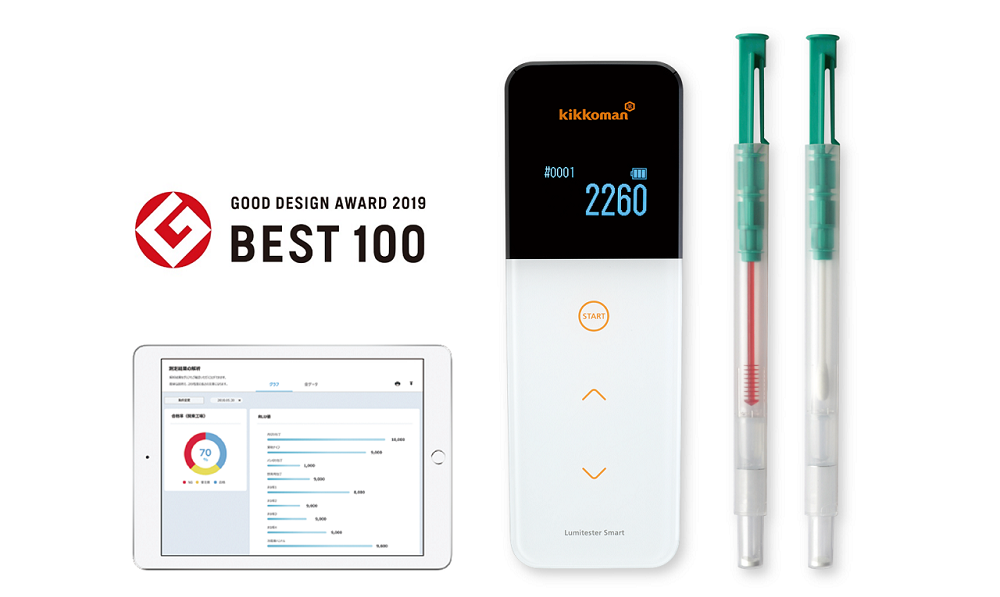 Good Design Award Jury Evaluation

"Sanitation management is important in a variety of settings, including restaurants and medical institutions. Requiring no special knowledge, this tool makes it easy for just about anyone to monitor the hygiene level. The exterior of the product and the interface for the connecting applications are designed in a way that is not intimidating for general consumers, instead of appearing like an industrial-use measuring device. In addition to the good quality design, equally admirable is the fact that the measured data can be shared via the cloud to encourage business to adopt a systematic practice of sanitation management."

https://www.g-mark.org/award/describe/49242?token=VvnzheGyBt&locale=en
Lumitester Smart

About Lumitester Smart
The Lumitester Smart is an ATP hygiene monitoring system capable of detecting and quantifying stains and residues undetectable by the human eye in restaurant kitchens, food processing facilities, healthcare facilities, and more through a 10-second process with three simple steps: "Wipe, measure, review." This allows users to implement appropriate countermeasures quickly and on the spot for improved hygiene management, thereby preventing food poisoning and other health hazards. The device was jointly developed by Kikkoman Biochemifa and Optex.

Development background
Proper hygiene management is the foundation for serving delicious dishes or creating a hospital environment that puts visitors at ease.
Not only is hygiene management important to prevent food poisoning and the spread of infectious diseases, but new challenges are constantly arising, and having the means for determining whether hygiene management is being implemented properly is essential. Rather than adopting a simplistic view of disinfection being a cure-all, it is necessary to be objectively aware of the current situation, and to make improvements accordingly. As a measurement data management tool that can be used with an app and with cloud connectivity, the Lumitester Start offers a new take on hygiene management, paving the way for revolutionary cleanliness both in Japan and throughout the world.
Offering a significant step toward a new era of hygiene management, the system itself is an embodiment of the respective strengths of Kikkoman Biochemifa—focusing on biotechnology—and Optex—focusing on optical measurement technology—to eliminate difficult and troublesome hygiene management tasks.

Usage locations
Food processing facilities, restaurants, hospitals, health centers, etc.

Included in the "GOOD DESIGN EXHIBITION 2019" Exhibition for Good Design Award Products
For five days starting Thursday, October 31, the GOOD DESIGN EXHIBITION 2019 being held at Tokyo Midtown will showcase the latest Good Design Award-winning products, with the ATP hygiene monitoring system "Lumitester Smart" being introduced in a special exhibition.

GOOD DESIGN EXHIBITION 2019
• Date: Thursday, October 31 – Monday (holiday), November 4
• Venue: Tokyo Midtown (Roppongi, Minato Ward, Tokyo)

http://archive.g-mark.org/gde/2019/en/index.html
What is the Good Design Best 100?
Among all the Good Design Award winners, 100 designs that have received especially high evaluations for their superior aesthetics, proposals, and enabled possibilities are selected as the Good Design Best 100 in recognition as a design that can serve as a model for future products and as suitable examples of products that raise the bar for standard products. This year, on October 31, the Special Awards winners will also be selected from among the 2019 Good Design Best 100 winners, including the 2019 Good Design Grand Award winner.
What is the Good Design Award?
Preserving the Good Design Product Selection System founded in 1957, the Good Design Award embodies Japan's leading design evaluation and promotion activities. With participation of numerous companies and organizations both within Japan and abroad, this global design award is bestowed every year with the aim of improving the quality of life while utilizing design to address social issues and themes. The "G Mark" is the symbol of the award and is known throughout the world as a symbol of excellent design.
Inquiries about news release
Akiko Otsuka
Public Relations and Promotion Department
E-mail:oj-pr@optex.co.jp