Optex Starts Verification of Monitoring the Flow of People, Flooding, and Equipment by Effectively Using Street Lamps in Suginami Ward
03/18/2019
Optex Starts Verification of Monitoring the Flow of People, Flooding, and Equipment by Effectively Using Street Lamps in Suginami Ward

- For Developing Towns That Are Safe and Disaster Resilient -
Optex Co., Ltd. (Headquarters: Otsu City, Shiga Prefecture, President & CEO: Toru Kamimura, hereinafter "Optex") has been partnering with Tokyo's Suginami Ward since January to carry out verification tests on monitoring the flow of people, floods, and equipment by transmitting data on human presence, tilt, vibration, flooding, electrical current, temperature, and other factors measured by various sensors installed in existing street lamps. The information acquired from applying IoT to the street lamps will be used to make Suginami Ward an even better town. We will verify the validity of this data over one year.
We have installed various sensors in the street lamps set up throughout Suginami Ward, and are applying the various sensing data acquired to research new possibilities for using the street lamps in disaster prevention and to keep the town safe. As a developer of a range of sensors including for security and automatic doors, Optex is providing the data acquired from these sensors installed in the street lamps and carrying out these verification tests.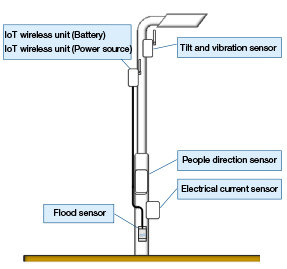 Overview of Verification Tests
Test sites: Using street lamps in several places including Asagaya, around Ogikubo Station, and at schools and other facilities in these areas
Test period (Scheduled): For about one year from January, 2019
Content of verification tests:
Human presence sensors:These sensors collect data on the flow of people, which can be used to improve services and add to basic administrative information.
Tilt and vibration sensors:These sensors detect the tilt and vibration of street lamps, and notify signs of corrosion and decay that can cause the lamps to collapse or break; this data can be used to prevent such disasters from happening.
Flood sensors:These sensors measure the water levels on the roads and notify of any flooding; this data can be used to keep residents safe and prevent or deal with water damage.
Electrical current sensors:These sensors monitor street lamps and check for any that have gone off due to the light bulb running out. By detecting and repairing and replacing the light bulbs early on, these sensors are useful in ensuring the safety and security of residents and traffic at night.
Temperature sensors:These sensors measure the temperature of equipment and the surrounding areas, and provide data that gives a clear picture of the temperature at a certain place.
Wireless communication devices that are compatible with Sigfox* LWPA (Low Power Wide Area) communication have been installed in street lamps, and the sensor data is used for central monitoring from remote places. With the cooperation of Suginami Ward, we are studying the effectiveness of data acquired in the verification tests and researching the potential applications of street lamps.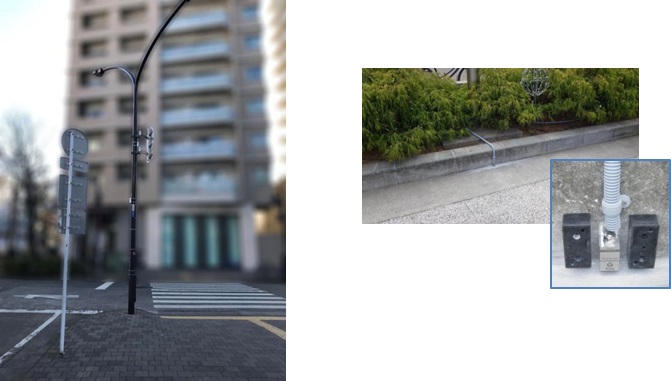 Sigfox: One of the LPWA communications standards for IoT. Sigfox has been rolled out in 60 countries in Europe and North America. In Japan, Kyocera Communication Systems Co., Ltd. (KCCS) is applying Sigfox in building infrastructure and in its network services. Since the service was launched in February 2017, work has been continuing on expanding the Sigfox usage area. In November 2018 the population coverage was 90%, and the aim is to expand this rate to 97% by the summer of 2019.
At Optex, we are using our sensing data to develop and propose optimal systems that can help to resolve various issues in society and business. Our aim is to create safe, secure, and comfortable societies and develop communities.
Inquiries about news release
Akiko Otsuka
Public Relations and Promotion Department
E-mail:oj-pr@optex.co.jp